Artist Spotlight: Student Musician
EvCC student Rebecca Robinson, leads a double life as "Killinsworth", an up-and-coming musician.
Sitting there in her neon-pink pumps, a spike collar choker and a heart shaped padlock necklace, 18-year-old EvCC student Rebecca Robinson projected confidence. To some people her style might be a little different, but for Robinson, it's a way to express herself.
Two years ago, Robinson saw something that changed her life: a hot pink v-shaped ukulele. Since then, she has learned how to slay the strings and produce her own music. Her stage name is Killinsworth, a name of a specific street in Portland, Oregon where she would visit her older sister. It is a place she holds close to her heart.
At the beginning of this year, Robinson was able to get her music streaming on both Apple Music and Spotify. She describes her music as a mixture of folk-pop and anti-folk.
One of her friends, former EvCC student, Lillian Azbill described Robinson's music as "punk ukulele." "That's not a real genre but it's hard to put her in just one box," said Azbill. "Her lyrics and style of writing is unique as well as her voice… with the ukulele, it adds a bit of innocence to the music and a light-hearted tone."
"Kimya Dawson was a huge inspiration to me, she has lyrically driven acoustic music that has its own distinct style and personality and that's what I'm trying to embody in each of my songs," said Robinson. Some other musicians she's inspired by is Daniel Johnston and The Velvet Underground.
While twisting back and forth in her swivel chair, Robinson explained the importance of being real with herself when writing her music. "I don't think it's important to be perfect in your music," said Robinson. "But being raw and sincere and having those flaws is really something I admire in my music."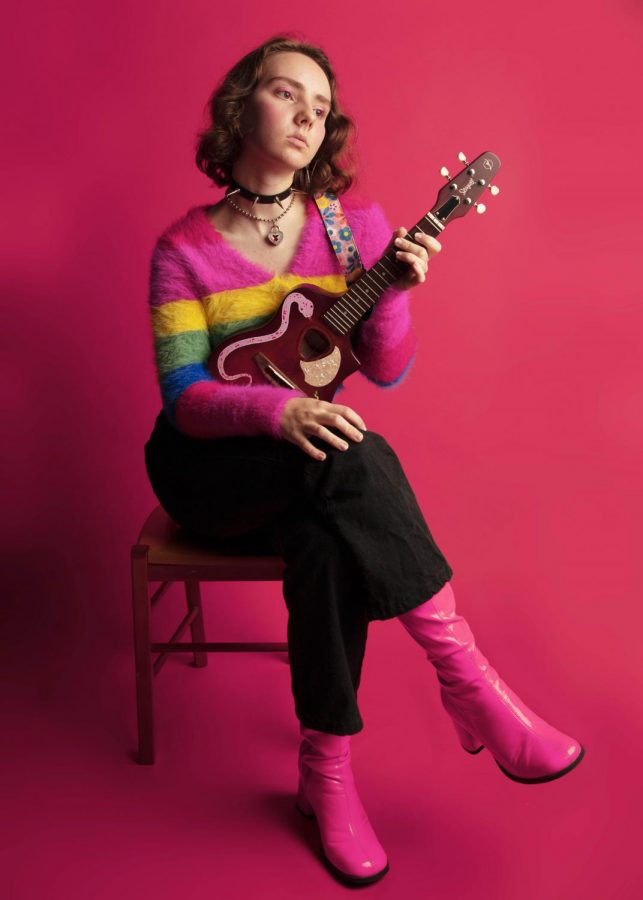 Robinson is currently working on her first album. She hopes it has a universal understanding to it. "I write a lot about my personal journey and what I'm experiencing… each song is a story I want to tell and it's part of my life and part of my experience," said Robinson.
Azbill has noticed how Robinson's writing has shifted since it's infancy. "Her writing has become more sad and vulnerable as she continues on her journey. I've seen that in her as a friend as well. Life only gets harder as you get older so it's nice to grow with her and the music simultaneously," said Azbill.
To Robinson, it's cathartic to put her feelings into her lyrics. The feeling of writing out her troubles and letting the music lift the weight right of off her shoulders is one of the ways she is able to distance herself from her problems.
After a lingering moment of silence, Robinson produced a message from her heart. "Having that connection and that part of yourself in your music makes it worthwhile, but when you pour your heart and soul into a song, it has more value in it," said Robinson.
Places she has performed include the Fisherman's Village Music festival in Everett, Alex Vincini's Art Opening at the Narrative Coffee shop in downtown Everett and the Fresh Paint Festival by the Schack Art Center on Everett's waterfront.
You can listen to her on both Spotify and Apple Music by searching her stage name, @Killinsworth. Or if you want to check out her instagram page, you can find her at, @Killinsworthmusic.
Leave a Comment