Within an Hour: Marysville
Hang on for a minute...we're trying to find some more stories you might like.
Within An Hour is perfect for students that want an adventure, but don't know where to find it. This is a guide to everything you can do within an hour of driving from the Everett Community College Campus.
The City of Marysville created Ebey Waterfront Park, a $4 million marine park for tourists and residents to visit. The park opened on First St. near downtown in 2005. The park offers a boat launch, a playground, picnic tables and walking trails. The project is ongoing: additions along the waterfront will be made in the coming year.
For the past 30 years, 3rd Street Book Exchange has been a book lover's heaven. But books have been an important piece of the owner's, Rachel Nanfito, life forever.
Her mother, Darilee Bednar, opened the bookstore because "[she] wanted to be a librarian. As a parent, she read all the time. She just loved reading," said Nanfito.
"She was really generous," Nanfito said. "She would give you the shirt off her back."
"My mom passed away last year," said Nanfito. "We're gonna keep [the bookstore] in the family." Nanfito keeps the bookstore thriving along with the help of her sisters, Erin Smith and Virginia McVey.
The bookstore has thousands of options to choose from, with mountains of books with nearly every genre imaginable. Nanfito's favorite genres are historical novels and science fiction.
On the second floor of the bookstore is Bednar's genealogical research. The shelves contain thousands of yearbooks from across the country, as well as extensive historical novels and records.
"We have a really strong customer base," said Nanfito. The businesses along 3rd St. meets once a month to plan events. "We all work together," said Bednar about the Marysville community.
"This street is really connected, the people are really awesome."
To contact, email bookstorelady@gmail.com. Visit 3rdstreetbookexchange.com
The Creamery Co. Coffee House & Frozen Yogurt Shoppe
https://www.facebook.com/Bluberrymarysville/
Hidden away inside of a little strip mall, there is a shop that sells frozen yogurt, coffee, smoothies, gelato and baked goods all in one place. The Creamery Co. is primarily a self-serve yogurt shop but caters to a variety of tastes. After choosing from the various frozen yogurt flavors, the front counter has an assortment of toppings to pick from. The toppings bar has everything: breakfast cereal, boba, peanut butter cups, fruit and more.  
The Living Room Coffeehouse runs on love. The baristas, the people that work in the kitchen, the management team and other workers at the coffeehouse are all volunteers.
"Baristas get paid on tips, but that's it. All of the funds from events are funneled right back into the shop. Paying power bills, keeping doors open, buying our coffee," said Amanda Michalski, the program and events coordinator of the coffeehouse.
The Living Room opened its doors at their location on 4th Street just two weeks before the Marysville Pilchuck shooting in 2014.
"We didn't really know at the time that was, you know, going to be such a pillar in the community," said Michalski. "They basically opened the doors for the teens to come because they weren't going to school for a little while, so it became the hang-out spot. Just a safe place to get together, grieve, talk."
Students and members of the community left messages of hope and encouragement on a chalkboard wall. "The community just really came together. We had local businesses delivering food for the kids, and just loved on them," said Michalski.
The non-profit coffee house was initiated by Kim Reynolds. She and her husband, Mike Reynolds, founded the Hillside Church and created the coffeehouse as a side project.
"[Reynolds] had a passion for the community and having a safe place because, at the time, Marysville didn't really have a lot of safe places for anybody to come and hang out, from teenagers to moms' groups," said Michalski. "Kim's mission was to have a place where you felt literally like you were at home."
Before the Living Room moved into the building on 4th street, it was used by Marysville Christian Church. The chapel is now used as a place for students to study, families to get together and for organizations to rent event space. The connected rooms of the former church are filled with chairs and tables for people to use as they drink coffee and visit with friends. The wall decor and couches create the feeling of being in someone's eclectic house as opposed to a business. Baked goods including cinnamon rolls, salted chocolate brownies, apple muffins are laid out in a display case each morning. Behind the case, baristas whip up using drinks using freshly roasted beans.
The Living Room Coffeehouse also supports local non-profits, primarily Hillside Church which meets in at the coffeehouse on Sundays.
Though the Living Room is a project of Hillside Church, the coffee house remains neutral in terms of religion and faith. "We want it to feel like a safe place for anybody, people from all walks of life," said Michalski. "No matter who you are, what you are struggling with, you're welcome here. That's really our mission: to not exclude anybody."

About the Writer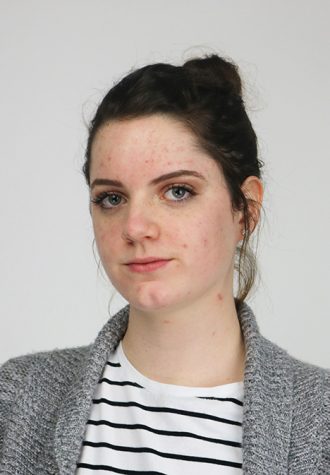 Laura Campbell, Social Media Manager
What interests you about journalism? Journalism is the art of spreading information in a way that interests readers. I love that storytelling and news thrown together to make something incredible. Where does The Clipper fit into your long-term goals? After graduating from EvCC, I plan to transfer to WSU Everett in Fall 2018. I am...