Sharpshooter's Road to EvCC
He is cool and composed off the court, but once he steps on to the hardwood, his killer scoring instinct is revealed. In only his freshman season, Markieth Brown Jr. has taken the NWAC by storm.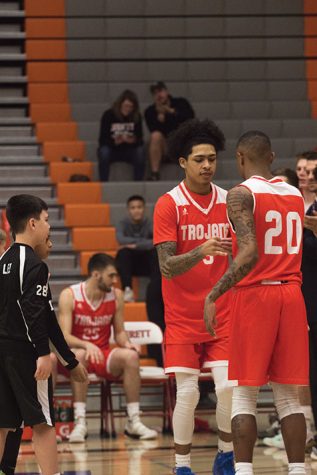 Brown is an integral part of the EvCC Men's Basketball team. He has played in every single game this season and leads the team with 38.8 minutes per game in conference play. Brown also leads the team in 3-point shots taken and made, shooting 30-90 in conference play. He leads the team in scoring, averaging 25.7 points per a game. This is only his freshman year.
The success he has achieved on the court in his first season at Everett hasn't come without the hard work and commitment that it takes to be one of the top players on the team.
Brown is a native of Spokane, Washington. He is the oldest of a family of three children being him and his two sisters, one who is 13 years old and another who is 10. They live with their mom as Brown's parents divorced when he was little, an event he has no recollection of.
"I'm a big family person," Brown says. He is also close to his grandmother and great-grandmother on his mother's side.
Outside of sports, Brown enjoys board games and friendly competition within his own family. His favorite games he likes to play is Sorry! and UNO. When asked who usually wins in his family competitions, Brown said, "Oh you already know: Me. I win every time." On rare occasions, one of Brown's family members beats him, bringing him into check.
However, his passion is the sport of basketball, a sport that has ultimately shaped him.
Markeith began playing basketball at the YMCA. When he was in middle school, he joined the AV select basketball team. During that time period, Brown also played a year of Volleyball. It was his sophomore year in high school at Shadle Park when he started to take basketball more seriously.
"Everybody grows up at some point," says Brown. "You can either do this or either do that." Brown started spending more time in the gym, mastering his craft. His hard work eventually began to take notice.
The process of recruiting Brown was somewhat unexpected and perhaps unscripted.  A person who worked at the local Boys and girls club, who went to EvCC as a student, noticed Brown's talent. The person then got in touch with Trojan's Head coach Mike Trautman.
"I heard he was a good player," said Trautman. "The first phone call we had, we talked for about 45 minutes and his personality drew me to him. I hadn't seen him play yet and yet, I knew I wanted him."
Another person instrumental in Brown's recruitment was teammate Gio Jackson. " I went to an open gym and I really liked playing with him," said Jackson. "That's when I knew we had to get him."
Since EvCC acquired Brown, he has thrived and excelled playing in his freshman season.   Brown's lethal scoring ability from the perimeter has made him into a force to be reckoned with in the NWAC this the season. Recently, Brown won the NWAC Under Armour Men's Basketball Player of the Week for week 11 of the season.
"He's a three-point shooter," said Trautman. "He's a player we can count on to get 20 points in a game."
Markeith Brown also provides a dynamic attacking partnership with teammate Gio Jackson.
"We feed off each other," says Jackson. The partnership between the two players provides EvCC with a blend of attacking options.
"We have Gio, who can penetrate the key anytime he wants," says Trautman. "If teams focus on him, he'll pass to Markieth for a wide open 3 to make those shots."
The road Brown has traveled on he has no regrets where his life has taken him.
"I wouldn't take anything back," Brown says "I like everything that's happened and everything that is happening."