New On-Campus Housing Opening Fall 2017
After the success of Mountain View Hall, there's now more student housing, and this time there's more variety.
Cedar Hall, the new student housing on campus, has been in the works for several years now. It is being developed and owned by two private developers.
One of the key differences between Mountain View Hall and the new student housing, Cedar Hall, is the floor plan layout.
Mountain View utilizes a "pod" concept, meaning students have individual bedrooms and bathrooms, but share a common kitchen. Cedar Hall is less like dorms and more like individual apartments, and all units have their own cooking space. Whether you'd like to share your space with roommates in a large three- or four-bedroom apartment or have your own private space in a studio unit, Cedar Hall gives you options.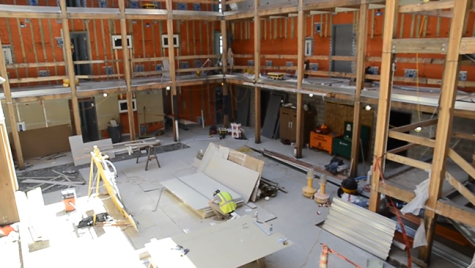 The studio apartments will have a fridge and hot plate technology instead of the full oven featured in the three- and four-bedrooms.
Specifically, there will be 25 four-bedroom, nine three-bedroom and five studio apartments, for a total of 132 beds.
Cedar Hall's reception area opens to a large interior courtyard. There will be lounge furniture, some trees, and a firepit in the courtyard. "It'll be a nice gathering space," said Sisneros. It is anticipated to be very popular among residents of Cedar Hall.
The idea for the interior courtyard was inspired by one of the University of Washington's student housing buildings. "As soon as that housing opened, it was full," said Sisneros.
Each apartment and its bedrooms have large windows, some overlooking the mountains.
Patrick Sisneros says that the inspiration for Cedar Hall's apartment-style housing came from Rainier Place, a long-standing student housing building at Edmonds Community College. The contractor for Cedar Hall actually toured Rainier prior to building.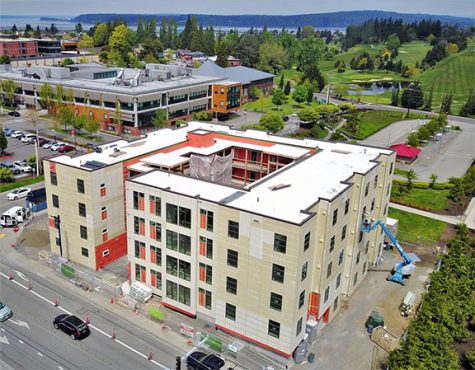 Unlike Mountain View, all of the units in Cedar Hall have tubs. Mountain View's rooms have only showers.
In the three bedroom apartments, there will be rolling kitchen islands to maneuver space as effectively as possible.
Similar to Mountain View, there will be stacked laundry units, all of which notify you by text when your laundry is done, so you don't have to wait around.
Patrick Sisneros says that the increase of student housing across Washington college campuses comes from rising number of international students. "We built this because of the increased demand from international students," he said. "We're tapped out in terms of the number of home state locations."
Cedar Hall will be open and ready for move-in as of fall quarter.
If you're interested in applying, visit EvCC's guide to student housing.