First Nations Club Holds Ceremony for New Indigenous Garden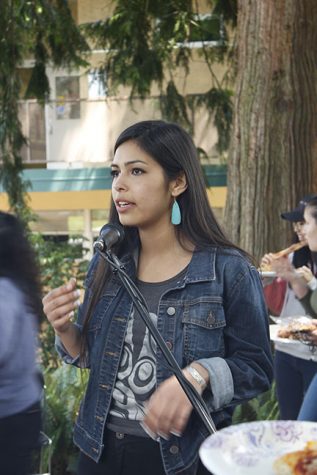 Members of the Tulalip tribe joined EvCC's First Nations Club to celebrate the planting in the new indigenous garden on on May 31.
According to Erik Sanchez, a member of the First Nations Club, the garden is "a celebration to earth and an honoring to the land."
The First Nations club held a communal planting party the Friday before the ceremony. First Nations Club members and others volunteered to help plant huckleberry bushes, salal, ferns, and other plants native to the pacific northwest's rainforests.
"Every plant has a purpose. It was medicinal for our people, or it was used in ceremony," said Kayah George, EvCC student and tribe member.
"A year ago (the garden) was just a thought," said George.
The garden is located under the cedar trees outside of Parks Student Union.
As part of the ceremony, Matt Remle, a Hunkpapa Lakota tribe member, played two traditional songs on his drum to celebrate the garden. His first song was to "bring all the elements in the space together", according to Erik Sanchez, and his second was to honor and protect the First Nations club members.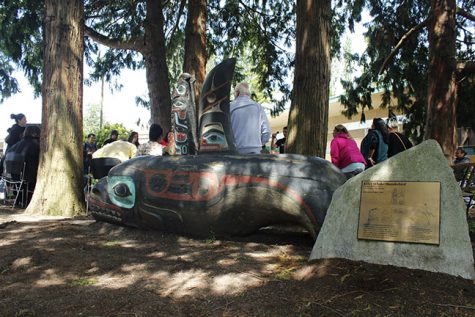 During the ceremony, numerous unaffiliated students came to watch as both the Tulalip tribe members and First Nations club members spoke about the garden and Matt Remle played his drum. Members of both parties thanked the community. Together, they prayed and enjoyed traditional songs before celebrating with pizza.
If you'd like to check out the indigenous garden and see the plants, it is just northeast of Parks Students Union. Near the garden is a killer whale and thunderbird totem, carved and dedicated in 2005.