Hidden Glory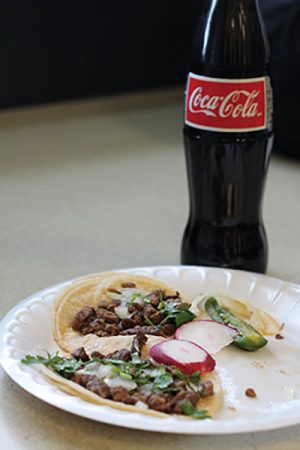 You're heading north on Broadway from school, your stomach rumbles, but college students don't want to stop for anything expensive. You're in luck. Swerve left onto 710 N Broadway Avenue and you'll see a taco truck called Taqueria Doña Mari.
For my third time eating here, I ordered the same meal. Three tacos with asada (steak) and a drink of my choosing. They have various bottled or canned soda, but more importantly- they have real Mexican Coke and Sangría.
Cost
This particular time, my food was $5 exactly and I tipped $1, so my total was essentially $6. That's cheap. I got quality food with a drink to wash it down for one Abe Lincoln plus my tip, but it wasn't as cool because I used my debit card. On that note- they accept credit and debit cards. They even have a place to insert the chip on a debit card; I thought it was pretty impressive for a taco truck.
Taste
One thing I love about this taco truck is their authenticity. The Clipper met the owner, Maria Garcia. She is a genuinely sweet woman and cares about the quality of the food they serve. I gathered that just from how it tastes, so, let me get to that.
Everything tastes fresh. The tacos come with onions, whatever meat you choose and cilantro. It's a simple recipe, but if you think the way a typical American family makes a taco is a real taco then you haven't lived.
They offer salsa verde or rojo to add. I personally love salsa verde because it's not too spicy. Occasionally, I will order rice and beans on the side. Their beans are perfect but I think the rice could be better. That's my only critique on the food. The rice is sticky and chewy and that's not my cup of tea, but I know some people like rice cooked that way.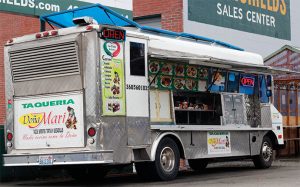 Service
The staff are very polite. They don't "suggestive sell" and try to get you to buy more than you want. They just take your order and offer you salsa with no extra charge. They also make your to-go order convenient to carry. I ate there with two of my friends and they put all of our food in one bag and tied the top so it wouldn't fall out. It was filled to the brim with napkins and forks and our extra salsa containers.
Overall, I would give this taco truck a 5/5 rating in consideration of their prices, taste and service. I highly recommend. A sign on their truck reads "Nadie cocina como la Doña" which translates to "Nobody cooks like Doña," which is so true.
View Comments (1)