Places to Visit During Winter Break
Stay Entertained During Break by Making a Trip to Downtown Seattle
When winding down after this past quarter of school, students might find themselves in search of some fun activities. Seattle offers a whole lot of ways to entertain people and shake all the stress of the day out of their body.
There are some great places one can visit if they have the means to travel to downtown Seattle. To start off, one could spend their afternoon visiting the beautiful Chihuly Garden and Glass Exhibit located in Seattle Center. "I'd never seen such a delightful and delicate museum until I went inside," said Humberto Villarruel, a preMED student at Everett Community College. 
From the first step into the museum, the dedication put into each piece is evident, as well as all the different and unique glass shapes around the museum's forest. Winter is right around the corner, and this place turns into a magical paradise full of lights and holiday sensation. Every Sunday until Christmas this year, Chihuly Garden and Glass has special festive events lined up. Each Sunday, live musical performances by choirs and ensembles, local artists, and kid's activities will be featured in the Glasshouse. 
Minutes away from this beautiful museum, one could venture to relax and drink a delicious coffee at Le Pichet Café, located right next to the Pike Place Market on First Avenue. Cassandra Shirey, coffee lover and a psychology student at Everett Community College, expressed her love for this particular place, "Not to be dramatic but I'd kill for the cappuccino served in this café," said Shirey."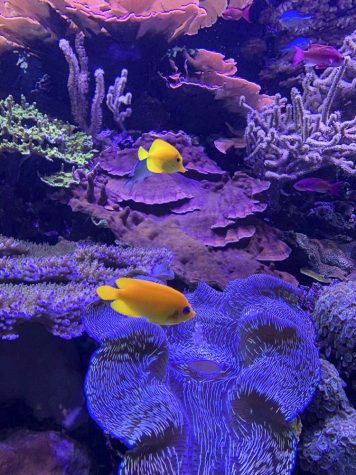 For something more interactive and for a ping pong lover, move those feet on to Sixth Avenue and check out SPIN. According to their website, SPIN is an "iconic 10000 square foot ping pong social club in the heart of downtown Seattle." Alone or with a group of friends, SPIN is a great place to play ping pong and many other games while you have something to eat or to drink.  Hussain Kayali, a preMED student at Everett Community College, recommends this social club for anytime one might feel bored or down and want to get their mind on something fun and competitive. "He says, "I was feeling bored and consumed of so much homework all week that I took some time off for myself and went to have fun at this mind blowing place I found."
Finally if one is interested in a "swim", they can go visit the fish at The Seattle Aquarium, located on Alaskan Way. During the early winter months, this would not be a normal visit. Those who attend during this time will get to experience the "Winter Fishtival," which will be held from Dec. 26 to Jan. 5.
Leave a Comment