Loneliness on Campus
According to a survey done by Cigna, nearly half of Americans report sometimes or always feeling alone (46%) or left out (47%).
An article by the Health Resources and Services Administration has stated that loneliness and social isolation can be as damaging to health as smoking 15 cigarettes a day.
In a survey done by Everyday Health, 42% of millennial women reported being more afraid of loneliness than a cancer diagnosis.
The Clipper reached out to a few EvCC students to talk to them about their experiences with loneliness and their thoughts on this new public health crisis. A few students voiced their opinion that social media, and the increasingly insular society we live in as a result, was a driving force behind the loneliness epidemic.
"Most people were always connected by physically communicating with each other," said Jeffrey Richner, an EvCC student. "But in our current situation, a lot of people communicate with each other through social media or other means that aren't face to face… I feel like a lot of people become lonely simply because we don't have that face to face connection anymore."
Another student, Mirei Maejima, voiced similar concerns. "If you're in your room, you can still keep in touch [through] social media. But those relationships through social media are not like true friends," said Maejima.
Some research supports Maejima and Richner's opinions. An article from NPR cited a study where people who visited social media platforms most frequently, 58 visits per week or more, had more than three times the odds of perceived social isolation than those who visited fewer than nine times per week.
However, the article also states that it could be that when people feel socially isolated, they go online a lot in an attempt to feel less lonely. Or it might be that spending a lot of time on social media makes people feel isolated.
Another student, Matthew Dollison, had a different take on why people may feel more isolated in today's society but also mentioned social media. People have to filter who they really are to conform to society's expectations and standards, Dollison says. "I imagine growing up in the seventies and eighties… whoever you were around, you had their perception… you see how you should act [on social media], and it goes against how you would act."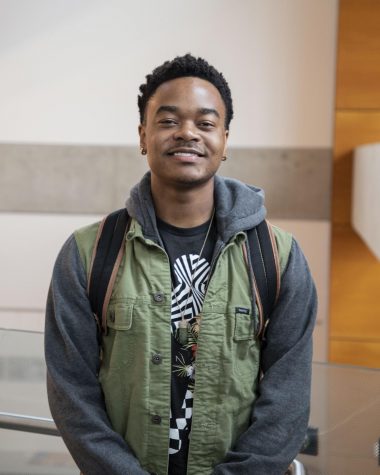 Social media may amplify society's pressure to conform and thus make people more likely to be inauthentic and therefore unable to form real relationships.
Whatever the cause for the current epidemic, loneliness is a part of the human condition. All of the students that were interviewed had advice to give.
"Maybe just getting outside and doing something that you like," says Dollison. "Just not sitting down and surrounding yourself in your loneliness."
When asked what she did to cope with feelings of loneliness, Maejima said, "I always go out somewhere by myself, go to the cafe or go to the restaurant and enjoy the atmosphere."
When asked what advice she would give others, she said: "Don't think that you are the only one feeling lonely. Think positively, that 'this is my time."
For students at EvCC struggling to feel connected, there are many campus resources available. A variety of student organizations and clubs exist on campus. Counseling and Student Success found in PSU 335, phone number (425) 388- 9263, can offer personal counseling.
Video by: Madelyn Olson
Leave a Comment