AMTEC: EvCC's Hidden Gem
EvCC's Advanced Manufacturing Training & Education Center, better known as AMTEC, is a state of the art facility that readies students for work in their chosen industry. It works alongside Washington universities with the latest manufacturing technology.
Donated materials and support from industrial manufacturing companies also play a role in helping this EvCC community thrive. AMTEC proudly reports a 90% completion rate and employment within 30 days of completion for its students. Current student Isaac Hernandez confirmed this and said, "The main thing about this entire building is they're trying to get you to work right away."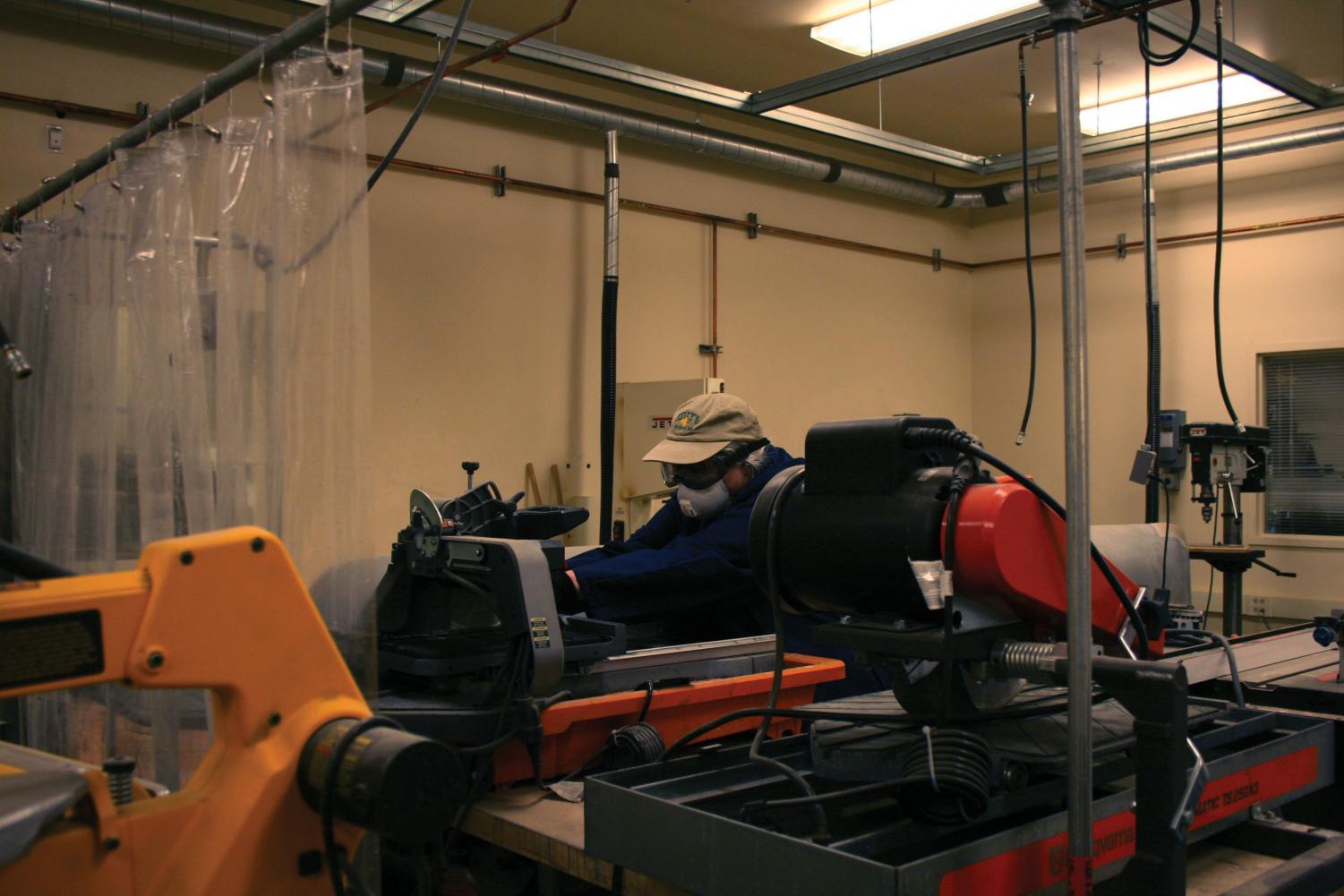 Lauren Hastings
In 2014, the grand opening showcased this 54,000 sq. ft. building with Washington's Governor Jay Inslee present. Since then, the school is no stranger to being approached by companies like Boeing looking for students as prospective employees.
AMTEC has produced art and functional equipment for the community such as bike racks at the Everett Mall and an art structure in White Horse Hall. They encourage genuine engagement by letting students be creative with their projects such as designing and fabricating a Mars rover, lightsabers, musical instruments, drones, and many other products.
AMTEC itself offers an array of stackable programs:
· Precision Machining
Learn the skills to operate CNC machines, write programs, read blueprints and industrial safety. In as few as 6 months, students can earn a job-ready certificate and qualify for entry-level machine operator.
· Mechatronics / Robotics
Prepare for an exciting job as an electro-mechanical technician. Working in robotics operations, testing, and equipment maintenance is a highly in-demand field. AMTEC teaches skills in electrical mechanics, computerized components, and industrial manufacturing and assembly.
· Manufacturing Pre-Employment
In one quarter, earn a certificate for entry-level manufacturing jobs. It entails learning the technical skill through hands-on training and industry tours.
· Engineering Technology / Technical Design
Using hands-on approaches, accumulate knowledge in technical design subjects: computer-aided design software like CATIA version 5, Solid Works and AutoCAD. Careers are available such as a technical designer.
· Composites
The composites program encompasses the production and processes of making composite materials. It teaches hands-on skills such as tooling, machining, quality assurance, assembly, etc. to prepare students to assemble and repair aircraft materials. Department faculty Tim Melcher said in orientation, "This is one of the finest composite schools in the country."
· Welding & Fabrication
EvCC's welding and fabrication program teach all major welding and cutting procedures including fabrication techniques, which is a unique addition here at EvCC.
Despite the factional programs, the departments work together collaboratively and students even share certain classes. Sherri Neidenberger is finishing her ADA in AMTEC and is leaving soon. She remarked, "The cool thing about AMTEC from the rest of the college—we are like our own community here."
WSU, CWU, and EvCC also collaborate to provide further advanced training options. For example, CWU has a Bachelor of Applied Sciences in Information Technology & Administrative Management for students seeking to make themselves even more marketable in their field.
One parting impression that students and teachers expressed was the inclusivity and welcoming environment that is AMTEC. "The staff is outstanding; the students here are outstanding. Everybody helps everybody."