Born To Play: Daughter of Pro Baseball Player at EvCC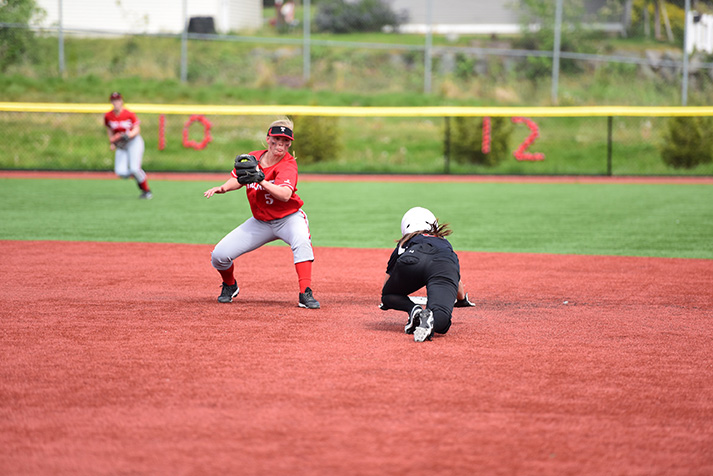 To say the success that Megan Dedrick has had in her freshman year playing shortstop has been nothing short of phenomenal would be an understatement.  Not only is this year her first playing at EvCC, but also her first year playing the sport of softball.
To understand Megan Dedrick, one must understand the impact the sport of baseball has had on her family.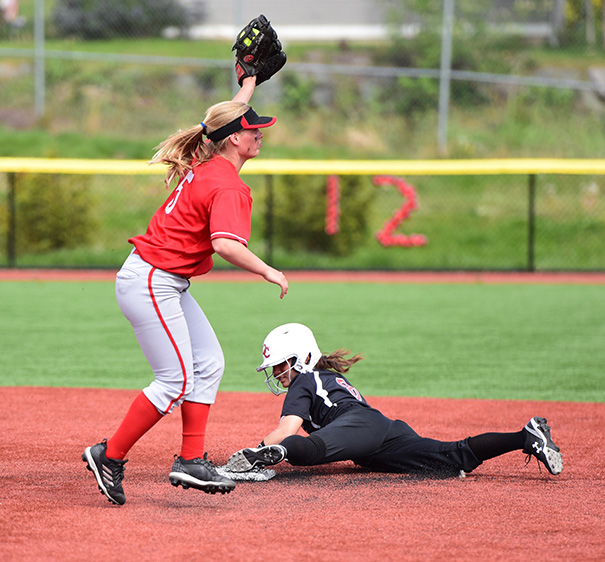 Baseball is the only sport that Dedrick has ever known. Her father Jim Dedrick was a pitcher for the Baltimore Orioles in 1995 and currently works as a scout for Pittsburgh Pirates.
"Sure he ( Jim) taught me a lot of stuff but I played a lot on my own," Dedrick says.  "Baseball and softball are one of those sports where you love it or hate it. There's not a lot of in between. I love the game and I love to play it."
Dedrick began playing baseball as early as four years old and never skipped a beat. All throughout Little League, she played baseball.
Baseball provided more of a challenge to Dedrick, who played in the infield. "I love taking grounders. I could take them all day," Dedrick notes.
"I love the anticipation of getting plays."
When she went to Everett High School, she was the only girl to play on the Varsity baseball game all four years as a starting player, getting regular playing time.
During the four years, she transitioned from shortstop, the position she has played all her life, to second base.
Success on the diamond drew her notice in 2014. Dedrick was given the opportunity to try out for the US Women's National Baseball Team down at Pepperdine University in Malibu, California.
After graduating in 2016, Dedrick was set to go to Vanguard University but decided to go to Everett Community College instead.
The opportunity would be put on hold as Dedrick suffered an ACL injury during the winter workouts leading up to the 2017 season. Even missing a year recovering from an ACL injury Dedrick was unphased and worked hard on returning to full fitness.
"She's the impact player we needed," says Trojans Softball Head Coach Randy Smith.
"When she plays she makes the team around her look better, what she does that  it raises their game up a notch or two."
This season Dedrick has not only had fun playing but also tried to enjoy playing the game as well as competing in her freshman season.
"I love working with Megan", says Trojan's second baseman Arli Oettel. "Megan is super-hardworking and it shows in practice and in games. You have  to be able to click in order to do well and Megan clicks with everyone on the team."
Even Trojans Softball Head Coach  Randy Smith feels that Dedrick has not yet reached her full potential and believes she wants to go a step further.
"She's a student of the game. The sky's the limit for her. She wants to get better," Smith says.
"She doesn't like to let a day go by where doesn't take extra ground-balls or get extra swings in. I don't think a student-athlete is ever satisfied when they become satisfied they tend to stop learning. Our philosophy here at Everett Community College is that we continue to work hard, we want  to be better tomorrow then we were today."