Musicians at EvCC (Video)
Robert French was born into a small military family, which would help define his life. At the age of 15, French picked up the guitar and hasn't put it down since. French self-taught himself how to write and produce his own music. Shortly after high school, French joined the military although it put his music career on hold. He struggled during his time in a submarine and was ultimately placed on limited duty.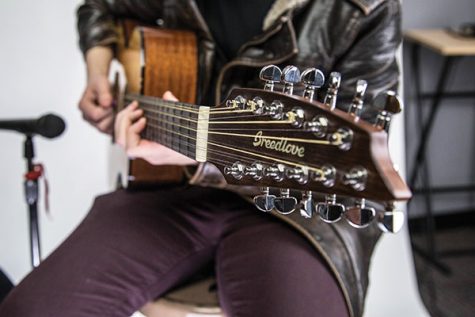 "I had a lot of time to do whatever, I started working and recording music again," French said. But this time was short lived after he was rerouted to I.T. Once French got out of the military, he found himself here at EvCC to pursue his music career.
French said he hopes to continue "not being so caught up in the fame and fortune. More being integrated into the music industry with making enough to moderately live off music."
French enrolled in a classical voice class here at EvCC and met Alexa Lee, and they hit it off right from the start. "We both believe that music should help people embrace who they really are," said French.
Playing the piano since they were four years old, Lee said, "music has always been my passion and helping me through difficult times, music has enriched my life and become a home." About seven years ago, Lee started writing their own music and is now hooked on it. Hoping to pursue music as a career, Lee is currently learning other musical instruments to expand their musical horizon.
With the help of http://radiooooo.com, Lee is able to go back in time to find music that can be reached in such a new day and age. French and Lee continue to work on music and hope to start a band. "Together we plan on collaborating and producing our own music," said French.