Everett's Pop Culture Heaven
Hang on for a minute...we're trying to find some more stories you might like.
The worlds of pop culture combine on Wetmore Avenue.
In one room, Godzilla terrorizes the city of Tokyo. Across the way, Deadpool sells chimichangas from his food truck. Radar signals and the deep breathing of Darth Vader can be heard next door on the icy planet of Hoth. Disney princesses surround the nearby castle, birds chirping all around them.
There is nothing else quite like it, and it all exists in downtown Everett at Funko.
Funko was initially founded as a bobblehead company in 1998 by Mike Becker. Brian Mariotti, the current CEO, bought the company in 2005. Since then, the company has been rapidly expanding in business and popularity.  They are primarily known for their collectible toys. However, they have released mugs, apparel, and other items.
"People collect differently. (Pop! Figures) are very affordable, that's been key to our success. You can keep buying them because they are so affordable. (Also), the art styles are very whimsical, that's the appeal," said Mark Robben, Director of Marketing at Funko.
Pop! Figures are the most widely recognized product that Funko has created. The vinyl figures sell for ten dollars or less in stores such as Walmart, Hot Topic, Target and the Funko store.
The store features different "universes" with interactive displays and colorful three-dimensional artwork. A Marvel-inspired city, Diagon Alley (from the world of Harry Potter) and Disney style houses are a few of the ways that Funko displays their merchandise.
The store opened officially opened August 19 and brought a crowd of over a thousand people. Customers filled with curiosity came from all over and even flew from other countries for the grand opening.
"We were blown away, we didn't know what to expect," said Robben about the tremendous turnout.
Customers can create their figures by mixing and matching pieces in the Custom Pop Factory. Each custom Pop! is fifteen dollars. The new attraction adds to the creativity and peculiarity of the store.
The store stands out on Wetmore Avenue in Everett. Gigantic figures of pop culture characters surround the building. The vintage-style lit up sign adds to the magic of headquarters. Overall, the store ha characterized as a misfit among the normality of downtown Everett businesses.
"We have such a great relationship with Everett and Snohomish County… Brian (Mariotti), our CEO, he's always been a Snohomish County guy. He grew up here, started his career here," Robben explained. "A lot of the people who work here live in the area. It's a part of who we are."
With failing businesses and closed stores surrounding them, Robben "hopes that Funko helps with downtown Everett economy." Funko serves to inspire other businesses in the area.
"We hope we are one of the first of many…People have to look at other places to work and live. Everett is a logical choice. There is a lot of room for development."
Funko offers products that cater to a broad demographic regarding age and genders. Robben described Funko as a store with something for everybody.
"We have everything from aliens to Star Wars," he said. Funko has trademark licenses from big and small companies. "The smaller licenses have very devoted fan bases. Any age, any gender. We've got it. We're inclusive. We are an accessible brand."
"We spotlight our licenses with our worlds in the store," Said Robben. "(Mariotti)'s vision was 'this needs to be more than a place to shop. This needs to be an experience.' We have created a little pop culture heaven."

About the Writer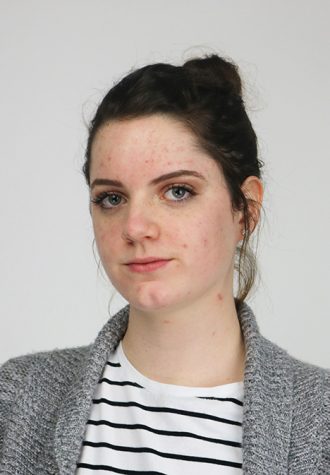 Laura Campbell, Social Media Manager
What interests you about journalism? Journalism is the art of spreading information in a way that interests readers. I love that storytelling and news thrown together to make something incredible. Where does The Clipper fit into your long-term goals? After graduating from EvCC, I plan to transfer to WSU Everett in Fall 2018. I am...