Camryn Cross: EvCC's Offensive Super-Star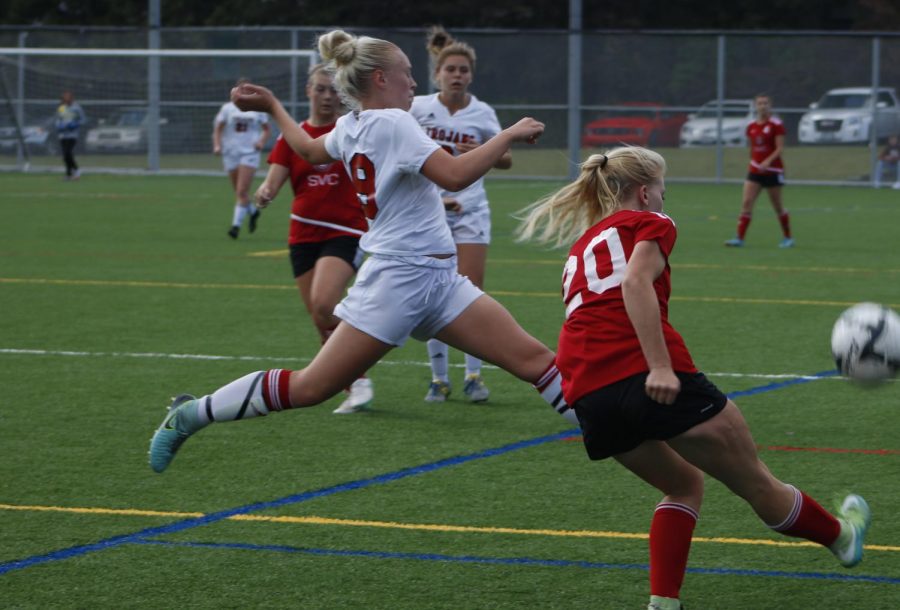 Camryn Cross, a midfielder turned striker for Everett Community College's Women's Soccer team, has been nothing short of sensational this season.
Cross has scored a total of 12 goals and is one of the league leaders in the NWAC. This season, Cross has put the ball in the back of the net from shots on goal or headers off corners, scoring goals in more ways than one.
"I've been playing soccer for a long time, so I know how to pick my head up in a lot of situations," Cross says.
Cross plays as a central attacking midfielder in a 4-3-3 formation, a formation in soccer which consists of 4 defenders 3 midfielders, two outside wingers and a central forward in the middle. However, this season, Cross has played most matches in the striker position, doing something she hasn't done before.
"All my coaches that I have been with thought I was good at center midfielder, but this season I started playing forward," Cross said.
Cross is a technical player and has a good vision of the pitch, knowing where and when to pass the ball that leads to goal-scoring chances.
Cross, a native of Stanwood, WA, started playing soccer in local recreational leagues. When she was eight years old, she joined Stanwood Camano United Select Club. The club folded and Cross kept playing on more select clubs.
She went on to play high school soccer at Stanwood, playing as a defensive holding midfielder after earning a place on the All-Wesco 3A North Girls Team her senior season in 2015.
Halfway through her senior season, Geoff Kittle, the Head Coach for EvCC Women's Soccer at the time, came to one of her games. He asked  Cross if she wanted to play for EvCC.
"It was the first offer I had," Cross said. "I was planning on going to Everett for academics anyways, so it was a win-win."
Cross knew several players from Stanwood High School that went on to EvCC such as Lauren Allison and Brooklyn Roberts, who were players on the women's team that won the NWAC Championship in 2014.
While the Trojans have had success, it hasn't come easy.
Unlike high school or university soccer programs, community colleges must train and build teams in only two years.
"With 4 years, you have a lot of time to play with the same girls year after year and build chemistry on the field," Cross said. "But this, it's back to back, two seasons."
Cross is currently a sophomore and is studying nursing before transferring for her bachelor's degree.
While it may be her last season playing competitively, Cross still enjoys playing soccer.  To her, the field is her natural habitat.
As the regular season winds down, Cross has been able to reflect on her time at EvCC not only as a soccer player but a student too.
"If I had to put it into words, it takes pride, hard work, and dedication to be a Trojan."
By Connor Roestel, Staff Writer