New To Shuksan Hall: Frederick "Ricky" Dooley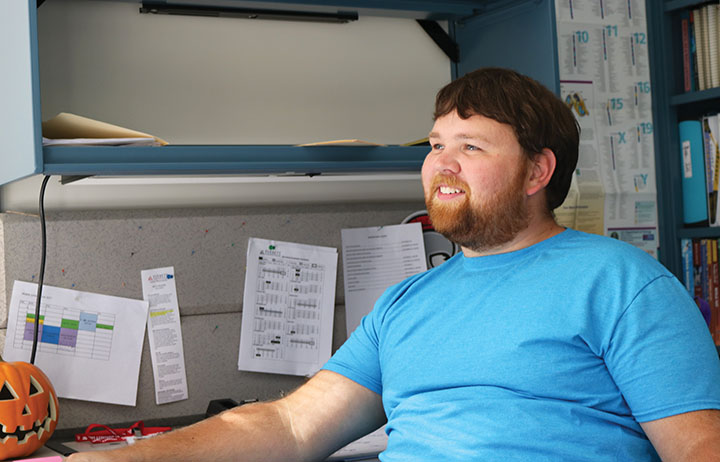 Frederick "Ricky " Dooley has set foot on almost every continent in the world. However, nothing is more foreign than the newest place he has traveled to: Everett Community College.
Dooley is EvCC's new majors' program lead and tenure-track biology faculty member.
"I have never had classes this small. I've taught to lecture halls filled with 1,200 to 1,300 students," said Dooley, a former instructor at University of Washington. He graduated from the UW Department of Biology with a Ph.D. and specifically researches environmental science. His experiments have been conducted mainly in the Pacific Northwest Region, with the exception of seagrass experiments in the Virgin Islands.
"Outside of research I believe in the power of education and the recruitment of undergraduates in meaningful research, with devotion to community," Dooley wrote on his website.
Dooley has assisted students with hands-on experience in the research field with goals of "explor(ing) the dynamics of physiology, all in hopes of conservation and restoration."
Along with his extensive background in environmental science and mentoring students, Dooley brings a passion for learning to EvCC.
"I like asking the hard questions, [science is] always expanding. I'm a curious person. I ask the grand questions. Why do extinctions happen? How do things die?"
Dooley is in the process of creating a new research program at EvCC that "increases research awareness and participation with students from general biology and biology majors." The anticipated program will be an amazing opportunity for students to have hands-on experience.
Dooley is intrigued by the potential to give "first-generation students opportunities that they may not otherwise have. The resources here, the programs and availability of everything is great."
He encourages that students "go do things, shift (their) paradigm. When you get comfortable, you don't learn."