Index Tear Down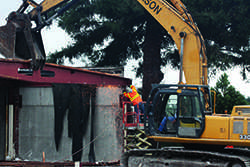 Walking from Broadway towards your class rooms at EvCC, loud metallic noise coming from atop the hill can be heard. There's a chain link fence covering most of the sidewalk. Inside, there's an excavator picking up debris in the empty space where Index Hall once stood.
Index Hall, home to multiple math, nutrition and language classes, is currently being demolished and will be the location of a new library. Construction of the new building will begin in 2019 and be complete by 2021.
After demolition is complete, the site will be covered with grass until construction of the library begins. Building B of Index Hall will stay in place until the library is completed because of needed class space.
The construction site caused parking lot D to close temporarily, which moved staff and disabled parking to lot E, potentially causing more traffic congestion. Both lots have since reopened.
Sierra Hagans, a sophomore at EvCC, is taking Sports Nutrition in the last building of Index Hall. She says that the demolition is "kind of loud, annoying and distracting, but I'm used to it by now." Her classmate Maddy Nealey, a freshman at EvCC, says that she has "learned to ignore it."
Liberty Hall, whose building plan included the current demolition, replaced Index Hall when it was opened in 2013. It takes "six years to get a project off the ground," says Molly Beeman, Administrative Services Manager. Although financing for the new library has not yet been received, it is "very likely to receive funding for new library resources during the 2017/2019 biennium," says Beeman.
Not only is EvCC trying to receive funding for new buildings, but so are 34 other community colleges in Washington State, and according to Beeman, "competition is fierce."
Currently there is no set plan as to what the library will look like. Pat Sisneros, Vice President of College Services, says "we have good ideas now, but they will probably advance." He adds that the plan as of now is to make the library a three story building of 70,000 square feet. There are possibilities of programs moving to the new building, such as the tutoring and writing centers.
As for the current library, Sisneros says that student services may move there since facilities and student activities that are already located in Parks Student Union need more space.