Listen Up! A Review: Colony House's "Only The Lonely"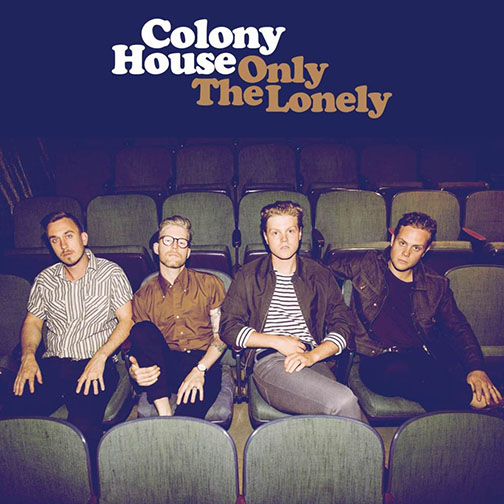 Bon Iver, Beck and The Flaming Lips – all musicians that influenced a genre massively. What genre would that be? The multifaceted and widespread genre of indie.
Indie music is a genre made popular by websites such as Tumblr, and has made a massive comeback in recent years. A subcategory within indie is indie rock, which originally came into vogue in the 1980s in places such as the UK and the USA*
With their second full length album out, Colony House is an up and coming indie rock quartet making their way into the music scene.
"Only The Lonely" came out Jan. 13 of this year via RCA Records. Yes, the same RCA Records that has Taylor Swift, Sia and Chris Brown signed. A big name for a – not so big – band.
This album features strong beats and beautiful word combinations, creating powerful lyrics. The moods switch in almost every song- Feeling lonely? Listen to "Lonely". What if you're in love with someone, and you can't live without them? Listen to "Cannot Do This Alone". Any feeling, any mood, Colony House has you covered.
Their single "Only The Lonely" hits home for me, personally. The song "1234" has lyrics such as, "it's the push and the pull of all the dreams that we've set" and "More of joy and less of sadness more of love and less of madness baby, I am yours baby, you are mine nothing is changing."
It tells a tale of not letting your dreams and life get in the way or become more important than the ones you love. I know I'm guilty of this once or twice and I bet you are too.
With lyrics quite a few people can relate too, "Only The Lonely" is a great first choice to pull you into the world of Indie. They have a pretty unique sound, but some songs have the same vibes as Arctic Monkeys. If you like wordplay and strong instrumental backings this album is for you. Overall it has earned a 4 out of 5 stars; it has become one of my most played albums on my morning playlist. If you like Colony House, you can see them live in Seattle at The Crocodile on March 31 at 7 p.m.
Leave a Comment