Listen Up! A Review
Niall Horan's "This Town"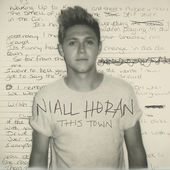 At a young age Niall Horan picked up a guitar in Ireland, and the rest is history. No, really though, from a young age Horan played music as a hobby; little did he know he would one day be a member of one of the world's largest boy bands, One Direction.
For multiple years the boys in One Direction toured, successfully completing three world tours before losing a member. One more tour happened before the band decided to go on a hiatus. Since then, one member has had a rumored single leaked, one has been signed by a record label for a solo album, one has had a child, and two have released singles, the newest being Niall Horan's "This Town".
"This Town" was released September 29 on the Niall Horan Vevo channel. The song features a single guitar and a single voice. Overall the single consists of lyrics regarding what seems to be the memory of someone after a breakup. "Waking up to kiss you and nobody's there" being an example.
For many this song is relatable as heartbreak is inevitable in our society. For someone looking for a sad breakup song to wallow in, this is a perfect choice. As this is his first single there is no prior work to compare it too, but as far as a song from a new artist I would have to give it a 4.5/5.
Leave a Comment