Volleyball has only finished over .500 three times in the team's history, but is well on its way to a fourth behind head coach Whitney Williams, who has the team firing on all cylinders, starting 18-9.
Williams, in her fourth year as the Trojan's head coach, has shown steady improvement, nearly doubling the teams win total each season since the pandemic-shortened season in 2019.
"I have big dreams for the program, I'm pretty motivated to make things happen," she said.
Williams is 46-49 overall at EvCC, while the team went 12-106 in the four years prior. Before taking over as head coach for the Trojans, Williams worked for six years as the head volleyball coach at Arlington High School. While at Arlington, Williams was named the 2019 Wesco conference coach of the year as well as being named all-area coach of the year by the Everett Herald. Before coaching in Arlington, Williams worked as an assistant coach for Timpview high school in Provo, Utah, winning two state championships.
Story continues below advertisement
According to Williams, the future goals for this team are clear; to be a top team in the North Division year in and year out and to bring an NWAC title back home.
"When I got hired by Garet (Studer), he said he had a banner waiting, we just got to put a year on it."
The team has also seen improvement in a multitude of statistical categories, including kills per set from 9.77 last season to 10.74 so far, digs per set up from 12.93 all the way to 19.22 and hitting percentage up from .165 to .171. Coach Williams credits the improvement to the returning members of the team.
"Half our team is returning sophomores, they put in so much work over the offseason… and gave them a level of confidence this season knowing we're capable."
The team is led by a pair of Sophomore outside hitters in Malia Shepherd and Annika Jones. Shepherd alone leads the NWAC in kills this season with 370, leading the next closest player by 87 kills.
"It's been such a fun thing to watch Malia rise… With everyone else knowing we have a top player in the NWAC on our team, it elevates everyone else in the gym."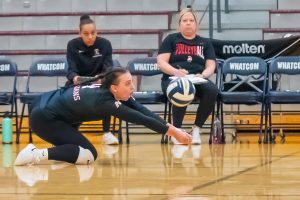 The duo have combined for 605 of the team's total 1020 kills this season.
"Great athletes and great people," is how Williams describes this team. The squad has come out with an even balance of youth and experience with seven sophomores and seven freshmen on the roster. "The girls who chose to be here knew our mission for the program."
Since starting division play things have slowed down for the squad slightly including a four game losing streak with losses to rival Edmonds, Bellevue and Skagit Valley; the three teams who sit in front of the Trojans in the standings.
"We've been underdogs the past few years, and kinda surprised some people…I believe we have an opportunity to win the North Division title.'" Williams said.
Trojan Volleyball isn't just building for this season, the goal seems to be building for consistent success. As for Williams, she isn't sure what the future will hold for her but is locked in on this team.
"It's a new era of Trojan Volleyball for sure. We have been slowly building over the past few years, and this is the year we put our stamp on it."
You can catch the Trojans at home in the Walt Price Center, where the remaining home matches include Whatcom, Skagit Valley and Olympic, while two tough road games await at Edmonds and Bellevue.