Domestic Violence Awareness at EvCC
EvCC's Efforts to Promote Awareness During Domestic Violence Awareness Month.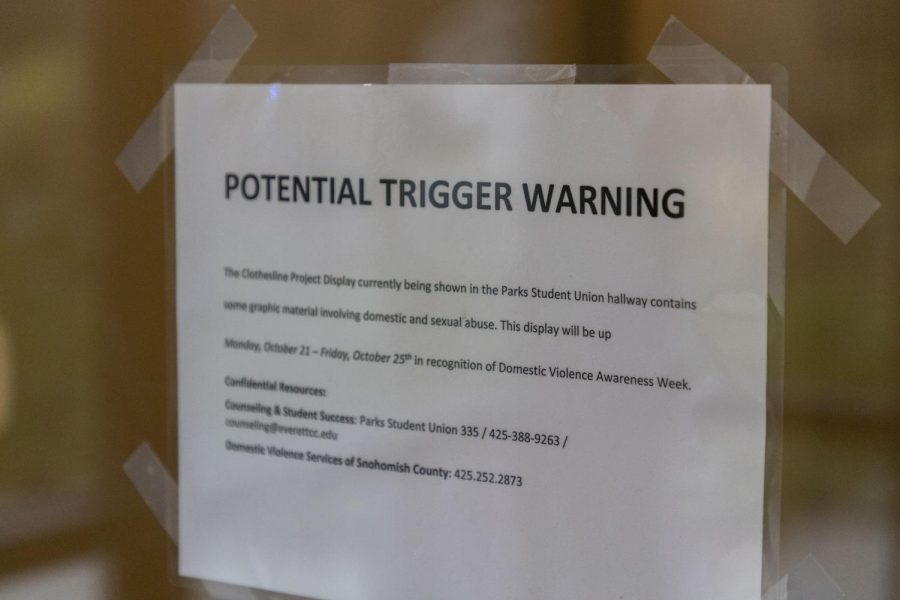 The Student LIFE and Equal Opportunity and Title IX of Everett Community College (EvCC), partnered with Domestic Violence Services of Snohomish County to observe Domestic Violence Awareness month. 
A week of activities in the campus was designated to promote awareness. One of the activities is the "Clothesline Project" exhibit. T-shirts donated since early 1990s by victims and families of those who lost loved ones in domestic violence were hung outside of Student LIFE located in building Parks Students Union on Oct. 21 to Oct. 25. These t-shirts told their stories, many in graphic details and some were decorated to express support for the victims.
"We want people who have been impacted to see that they are not alone and we want to provide resources for them to get the support they need," said Lindsay Hudson, Student LIFE program manager and adviser.
Information tables and resources were on display and a bin for donations that will benefit the Domestic Violence Services of Snohomish County was available. People stopped by to see the exhibits and many created their own paper mini t-shirts to hang.
The Domestic Violence Services of Snohomish County Community Outreach Coordinator, Gina Loh presented a free workshop called Intergenerational Violence and Breaking the Cycle at Gray Wolf Hall on Oct. 24. The classroom was full. The workshop explored and re-examined the ways violence is justified. Participants learned and shared ways not to fall victims or become abusers. 
According to Erin Carr, the Director of Equal Opportunity and Title IX Programs, there will be workshops similar to this every month. The upcoming schedule and more details can be found by going to Title IX and Equal Opportunity website, https://www.everettcc.edu/administration/admin-services/title-ix
There are resources for victims of domestic violence. The EvCC Counseling & Student Success department provides confidential and professional counseling. Counselors are available throughout the campus but their main office is located on the third floor of Parks Student Union. To make an appointment for a free and confidential counseling, call (425) 388-9263 or email [email protected]. 
The Domestic Violence Services of Snohomish County provides confidential services such as emergency shelter and support groups. Their hotline is (425) 25-ABUSE or (425) 252-2873.
Video by: Jane Bowman