Artist Spotlight
A Q & A with EvCC art student, Natalya Durheim
Natalya Durheim, a member of the studio art program has taken the inspiration from her family and friends to hone her craft. Using acrylic paints or her iPad Pro, she is able to create semi-realistic illustrations that she hopes to master so she can continue being self-employed as an artist in craft-fairs and for freelance game studios.
Durheim sat down with our staff and shared her thoughts on her journey through art and what she hopes to accomplish in the future.
What inspired you to become an artist? Is it a gift that you have always had?
The support of my parents, along with my love of drawing and painting, inspired me to become an artist and pursue it as a career. I don't know about it really being a 'gift', some people are more inclined to working at it and understanding which helps them to get better. Like any other skill you have to hone your ability and continually develop it, I've done this since I was young.
What type of art would you categorize yours to be?
I would categorize my art to be semi-realistic illustrations of both people and animals for the most part. There are exaggerated aspects but I have a strong basis of realism.
What type of materials/ media do you use for your art?
I use any and every material I can get my paint-covered hands on. My main media are both digital and traditional. So that ranges from acrylic paints and colored pencils to the app Procreate on my iPad Pro.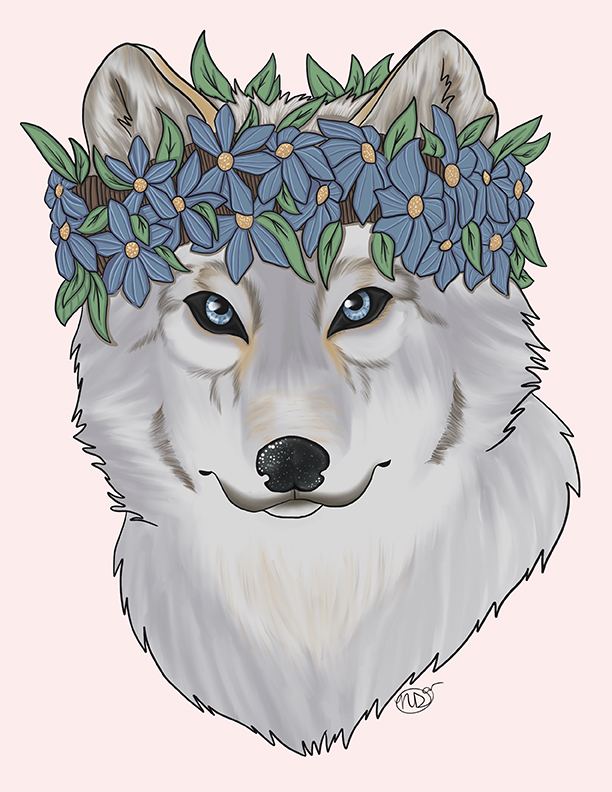 Who inspires you? Any favorite artists that you look to?
I have a few main favorite artists; Natalia Diaz (@nataliadsw on Instagram), DrawingWiffWaffles (YouTube) and Kelly Lahar. I look up to Natalia because of her brilliant understanding of hair and its form. DrawingWiffWaffles is amazingly kind and generous, and she is able to make her characters very lively. Kelly Lahar creates insanely illustrations of wildlife that take your breath away.
What program are you taking at EVCC?
I am in the Studio Arts program, I'll be graduating Fall 2019 with my AFA. I'm currently a running start student, this is my last quarter in the program.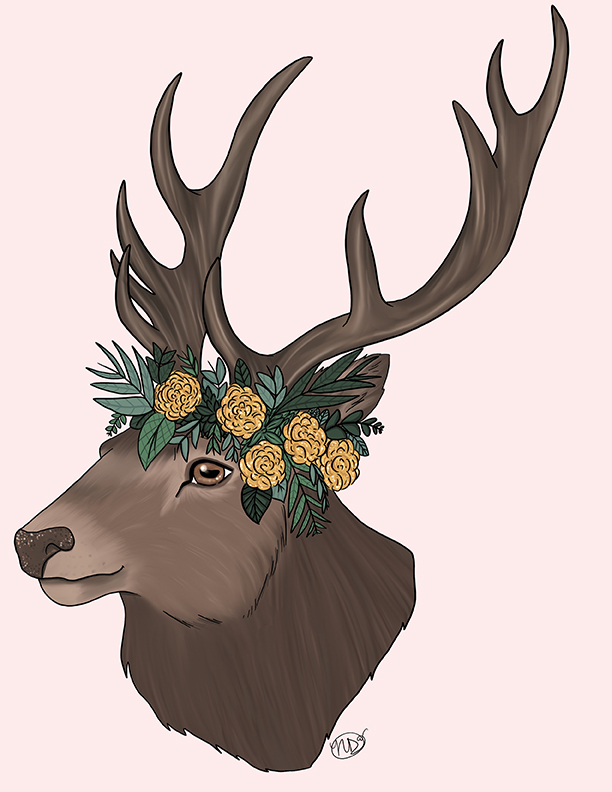 What do you like about the program and is there a favorite instructor that you would like to mention?
The program is full of many beneficial classes that help all artists hone their skills. The variety allows you to actually choose your path and preferences which is exciting. Personally, my main favorite courses were painting, drawing, figure drawing, and printmaking. I have three instructors that I'd love to mention actually; Miles Labitzke, Linda Berkley, and Sandy Lepper.
These three people helped me so much over the last couple years, they've all watched me develop and helped to give me feedback when needed. I'll definitely miss them and always remember what they taught me.
What are your plans after graduating EVCC?
I plan to continue to develop my career as a self-employed artist by managing my shop, participating in art fairs, and freelancing for game studios.
Anything else you would like the readers to know about you…
I recently launched my Etsy shop and business, where I sell prints and traditional pieces as well as take custom commissions! If you're interested, please check out my shop @NateradeCreates.
Find more of Durheim's work on Instagram: NateradeCreates Etsy: NateradeCreates or NateradeCreates.com
Click through the gallery below for select samples from Durheim's portfolio: