Shorthanded Trojans Rally Late, Clinch Second Straight North Title
Trojans outlasted Olympic college 95-89.
Despite a resilient performance by last-place Olympic College, the Trojans, playing with a short bench hung on to win 95-89 clinching their second North division title in a row on Wednesday night.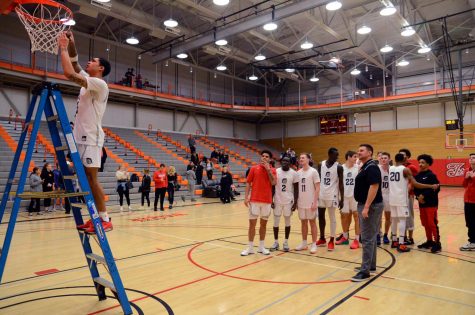 Leading the way for EvCC was star guard Markeith Brown Jr with a tumultuous 21 first-half points, finishing with 36 on 14-21 shooting after seeing his squad go down 20-13 early. "We were playing without 3 of our top 8 starters tonight so that didn't help," Coach Trautman said about the team's lack of consistency at times over the course of the game.
The Trojans responded with authority to start the 2nd half opening up on a 15-6 run, extending their lead to 12 at 64-52. After a timeout by coach Craig Murray, his Olympic squad came roaring back going on a 22-7 run to take a 74-71 lead with 8 minutes to play.
"He told us we needed to shape up defensively and to play tougher," said Markieth Brown Jr after Coach Trautman called timeout. The Trojan's rallied late putting together a solid defensive effort down the stretch to pull away 95-89 clinching their second straight North division title while keeping their perfect conference play intact at 11-0.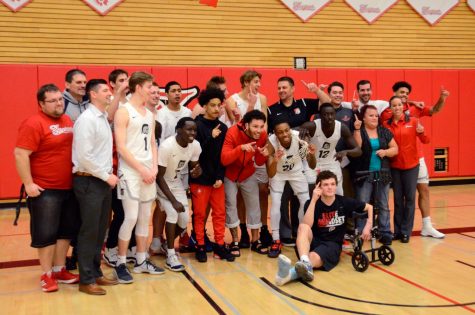 With Wednesday night's win, Mike Trautman's squad also guaranteed themselves a spot in the upcoming NWAC tournament with a shot at making amends for last year's heartbreaking double OT loss in the second round. The Trojan's will first look to take care of business in the final week of the regular season with a chance at finishing with a perfect 14-0 conference record.
Coach Trautman believes health will be key in making a run in the tournament, but their confidence is what will be deadliest, "We have to get healthy and stay fresh but in the same respect we haven't lost a game in a month so we're a pretty confident bunch right now".
Leave a Comment