Trojans Waiting on the Call
Spring is an exciting time of year for baseball players; not only does it mean games start, but opportunity comes knocking as well. Student-athletes at this level are playing for one thing and one thing only, an opportunity to play the extra two years that moving on to University brings them.
The journey creates a different story for everyone, very rarely does a transition like this culminate without a hitch. Athletes often struggle with injuries, and if the injuries aren't hindering post-community college success, lack of exposure is. However, the NWAC Baseball Championship is the perfect place to showcase talent as coaches from four-year schools all around flock to Longview, WA every year to seek out new talent to add to their roster.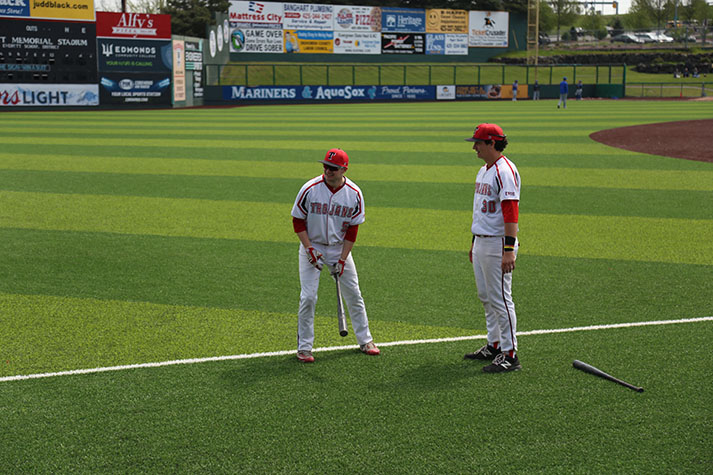 Cameron McGrath, Trojan sophomore and shortstop/designated hitter is among the few that committed early, specifically to Central Washington University to continue his baseball career. "Hopefully I can jump in at Central and compete for a starting spot, anywhere that I can get in the lineup," said McGrath. "I want to play as long as I can."
As for Owen Leonard, Trojan sophomore, and pitcher, four-year offers came late but not too late. In the second game of Everett's NWAC Championship run, Leonard had a career outing to keep the Trojan's championship dreams alive, pitching eight innings with four hits and no earned runs. Overnight, Leonard woke up to five offers on his plate from various four-year schools. "This is kind of the hub of recruiting, the NWAC tourney," said Leonard. "It's a little kids dream, you have all these options to go to different schools… that's been really exciting."
For some, the light at the end of the tunnel is barely visible until the very last minute. EvCC Sophomore and Trojan pitcher Alex Spahman struggled during the season with various setbacks, only to come out and wow scouts in the Trojan's very last game with his fastball velocity and overall projectability. "I have yet to be picked up, hopefully with what happened today I can get a few schools interested," Said Spahman after the game. "I didn't have the year I wanted to have, I had a lot of stuff that didn't go my way… we always are kinda able to place guys where they belong so I'm not too worried about it."
It's every little ballplayer dream to play for a purpose, to play for a meaning, for free schooling in return and maybe even for money if things go right. These three individuals all have the same dream, to make baseball not just a game, but a career. Their opportunities are finally knocking.
Leave a Comment