EvCC Students Make a Difference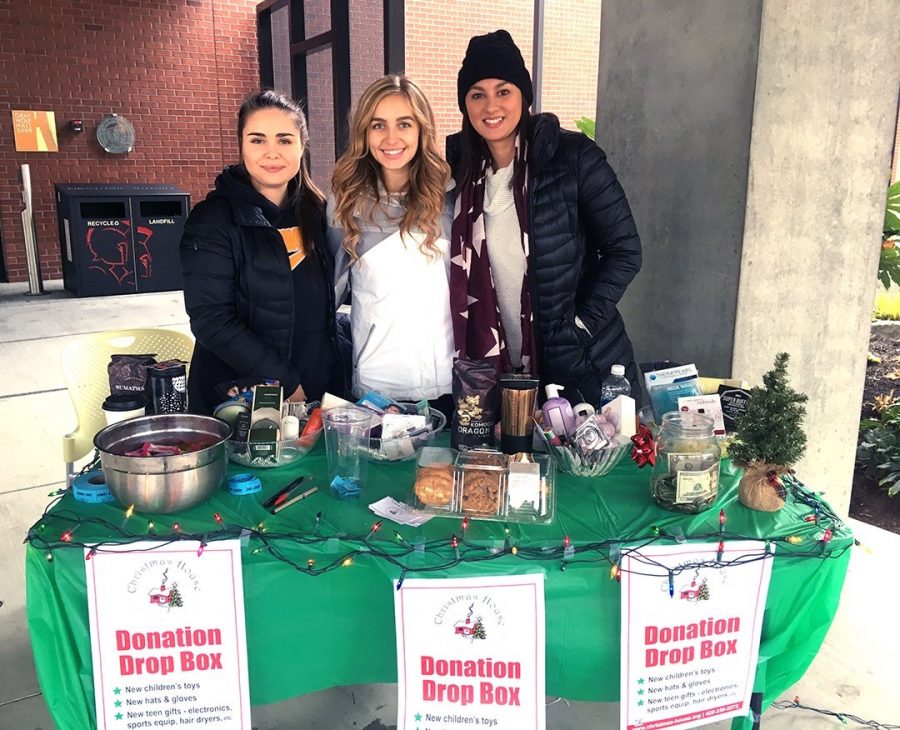 Five EvCC students are working hard to provide Christmas gifts to low-income families of Snohomish County. Calling themselves "The Wish List," these students are partnering with Christmas House to hold a toy and book drive in Grey Wolf Hall and throughout Everett. "Our goal is for every child in Snohomish County to have a present to open this holiday season. That's a lot of kids!" says The Wish List.
Savannah Woodward, a member of The Wish List, has a personal connection to the organization.  "I myself grew up poor, and it was hard to go away on holiday break and get nothing, to then return to school surrounded by kids who got new shoes and fun gadgets," says Woodward, "I love giving and receiving gifts, it's my love language, so it's fun to think that a child will feel loved through our efforts."
The Wish List partnered with President Gregg Milne of Christmas House. Milne has been president for three years now.
"I started out with just donating and when I retired, I wanted to do some things to give back, even more, so that's when I have been donating to Christmas house for years so I went down and I volunteered, next thing I knew they wanted to know if I wanted to a be a director and a year after that, the president" says Milne.
Christmas House provides free gifts to qualified low-income families in Snohomish County. The organization organizes a free shop where families get to come to select gifts for their children.
The nonprofit organization started about 36 years ago when Roy Fraser noticed in his neighborhood that there were kids whose parents didn't have enough money to buy Christmas gifts, so he decided he was going to change that. Fraser emptied out his garage with all the stuff and that year started building and repairing toys for kids. The following Christmas, he used those toys he reconditioned and handed them out to the kids in the neighborhood.
"From this, Christmas House evolved to what it is today. We served just about 8,000 kids last year from 227,050 families in Snohomish County," Milne said. "It takes about 50,000 gifts for us to serve those kids."
Kids are often aware of their family's struggles and when they know funds are tight, they are not going to press their parents for gifts.
"I wanted to do this toy drive to rally on their behalf and give them a day where they can forget about their financial troubles," says Woodward, "My life has been full of calamity, but with help I've been able to move forward and now I want to do that for others."
Woodward has learned that people face all kinds of adversity, but that it's harder to endure it alone. She says that doing kind things for others and helping those in need is an easy way to say to someone "You matter, you can get through this."
The Wish List is hosting a book drive on campus on November 8 and 15, as well as a toy drive off sites throughout Everett. They made a GoFundMe fundraising account to raise money to buy toys and books for Christmas House. They are joining forces with our community to help make this goal a reality.
For more information on how you can donate, see https://www.gofundme.com/christmas-house-partnership
By Inessa Grishchenko, Staff Writer