Begin with the End in Mind
If you plan on transferring after graduation, then you're part of the outnumbered crowd at EvCC.
"Of new students who come into EvCC seeking a transfer degree, roughly 24% end up transferring to a four-year institution within four years." This statistic, provided by Sean Gehrke, Director of Institutional Research, suggested, "76% of students pursuing a transfer degree either do not actually transfer or take longer to do so."
Of course, transferring into an undergraduate program isn't the only choice to consider when finishing your associate's degree. However, some believe that it can provide an edge to any path you may pursue.
"People with bachelor's degrees typically have higher salaries," said Brett Atwood, director of the Integrated Strategic Communication program at WSU Puget Sound. "There's a clear advantage in employment and skill level."
Kris Baier, an academic coordinator in the WSU program, elaborated further on the topic. "For people who think the knowledge won't be relevant for them, most jobs will look for that undergraduate degree. It's very difficult to crack in the market without it."
Atwood and Baier both have years of experience in teaching, and have personally seen the results of such students who transfer into undergraduate programs. Although they're both with the WSU program, that's not to disregard any other schools that students may be considering.
Nathan Smith, an EvCC student, was just recently accepted into Western Washington University and plans to attend after he graduates this spring quarter.
"The career path I'm pursuing requires a degree, and is highly competitive. I need to complete my education so I can start fighting in the job market sooner rather than later," Smith explained.
Smith is one of many who plan to transfer into undergraduate programs once they graduate. For those who don't plan to transfer, there are plenty of personal reasons behind their decisions.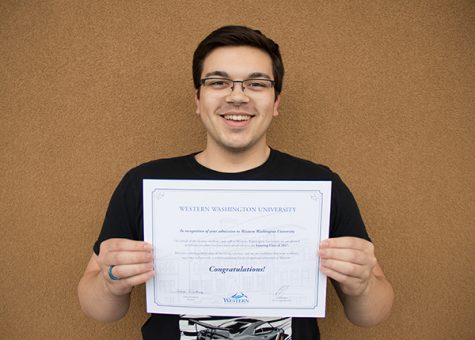 Kianna Lewis, for example, had originally planned to use her transfer degree to work towards becoming either a teacher or a nurse.
"Now, I want to work in the fashion industry," Lewis explained. "I'm also a professional dancer in Seattle, so I'm just going with the flow and saving money."
Of course, advisors understand that there are options besides transferring. "There are certain career paths that may not need that undergraduate degree, but that's a student's personal choice," Baier stated.
Having seen the beginning statistic, Atwood was personally frustrated. "We want to see more people! From my perspective, we'll do whatever we can to help; but students have to take that initiative as well."
Whether you plan to transfer, join the workforce, or pursue a passion after graduating from EvCC, there are some universal things to take into consideration.
"Most times you'll find that a bachelor's degree will be beneficial to get to that finish line," Atwood explained. "I also understand that there are paths that require no degree. So know yourself, and know where you want to be."
Quoting The Leadership Challenge, Baier advised this: "Begin with the end in mind."