Starbucks Opens Across The Street From EvCC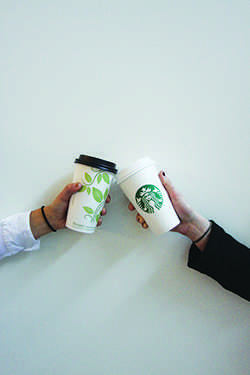 On the first Friday of the quarter a new Starbucks opened on 10th and Broadway, just across from student housing. For an average college student there is never such a thing as too much caffeine; it's part of the culture now. In the classic Northwest style students now have the option of choosing between two coffee stands and a fully equipped Starbucks with outside seating for those precious sunny days and a drive thru window for those chilly winter mornings.  The Starbucks seating area is generally quieter than the bustling Parks Student Union or the seating area above the Bargreens in Whitehorse.
Students Amir Rikabi and Salam Albarkat have begun meeting at Starbucks after class. Amir enjoys the less crowded atmosphere while Salam just loves his Starbucks. Amir jokes, "He hangs out with too [many] white girls," as to why Salam is such a Starbucks fan.
Starbucks is well known for the distinct flavor of their coffee, and a readily available variety of brews. Graphic design and communications teacher, Chris Larson, happily sips a classic tall half caf drip with cream while on his way to teach his class.
Some worry the arrival of Starbucks so close to campus will hurt the Bargreens Coffee Co. stands which are local to Everett since 1898. Nevertheless, it's 10:53a.m. and the whirr of espresso machine fills the air of Parks Student Union where the line of seven to eight people keeps the two baristas busy.
EvCC Junior, Tobias Bengston, has made the Bargreens inside of Parks part of his routine. When he walks "from library to class, it's just always been there." For the past two years Bargreens in Parks has been the place to go when Tobias "just needed some coffee," and he doesn't expect that to change any time soon.
Brooke Smith, 19, enjoys a 16 ounce triple shot peppermint latte outside of Baker Hall. It's her first quarter at EvCC and she loves the ease and convenience of having a coffee stand so close.
In Whitehorse, even though one can see the new Starbucks from the big windows, there's something about not even having to leave the building to get to some coffee that appeals to students, especially in cold or rainy weather. Kathryn Davis, Sophomore, gets a white chocolate mocha three times per week from Bargreens. She has no preference between coffee stands or Starbucks, but leans towards whatever's closer. Getting coffee in between classes, Kathryn doesn't have too much time, so she doesn't want to walk the whole way.
For some, the new Starbucks couldn't have come any sooner. Die-hard Starbucks fans will certainly make their way to the new building and enjoy the quiet Starbucks atmosphere with plenty of tables, chairs and Wi-Fi. Yet, for many students Bargreens location offers unbeatable convenience, and previous quarters that solidify the habit into their daily routines.