Where are you Going? Transfer Tips for the Community College Student
On Nov. 4, 2015, from 2-4 p.m., a university fair was held at Jackson Center and Gray Wolf Hall in order to provide opportunities for students who are considering to transfer to a 4-year university to talk to admissions representatives from more than 80 schools. The representatives had come all the way from a lot of different states-Alaska, Arizona, California, Colorado, Hawaii, Indiana, Nevada, New York, Oregon, Utah, Washington and so on. The Clipper went to the event to find some tips for students planning on transferring.
Many representatives suggest that students do a lot of research to see if the school is satisfying their needs. "Students must apply early. We want them to concentrate on your studies instead of trying to finish your application in the middle of finals week. Also, I recommend that students spend some time researching the school and city if it is a good fit for them, if it is affordable for them," said Cherish Hagen Swanson, International Program Center director of Bemidji State University.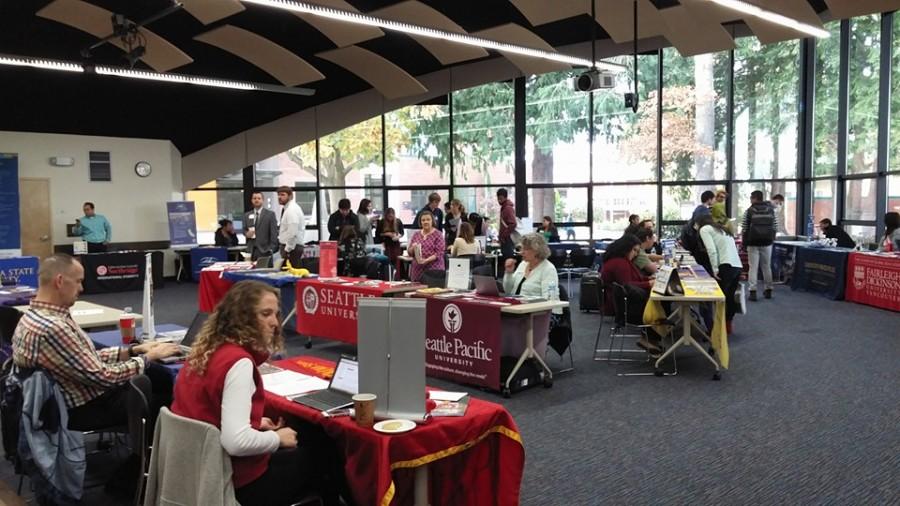 However, there are tons of more values that students must consider before choosing a university. Don Buegel, Admissions Director from University of Minnesota gave tips on what to consider. Buegel said, "I believe students should pay attention not only to making sure the academic programs help you achieve your educational objectives, but also making sure you will feel comfortable and supported at the campus and finding a school that provides the best educational value for themselves and their family. Higher education in USA is expensive, and it is wise to pay attention to cost and value."
The most important factor that students have to check out first and foremost is if their credits are transferrable to the desired school. However, when they are considering on transferring to in-state schools, they do not have to worry about it because EvCC has a credential agreement with universities that are in Washington State. On the other hand, since there is no firm credential agreement concluded with out-of-state institutes, students may want to email directors of each school or do some research over the issue if they are planning to study out of Washington State.
One more important factor that most students are worried about is tuition and fees. However, universities have scholarships and financial aid packages, so students who are anxious about costs definitely have to look up the deadlines for such opportunities. In addition, international students are usually more concerned about such a problem because they often pay more than local people due to tax rights, but there is good news for them; many universities charge resident rate of tuition. "We offer the in-state rate of tuition to all students, so our tuition is only $10,180 this year – I believe it is about the same cost as a non-resident student taking 16 credits a quarter at EvCC. International students and US students regardless of state residency would all benefit from our rate of tuition" said Buegel.
Since it is important to look carefully into each school's policies because they have distinctively different systems, attending a transfer fair is definitely a good opportunity for students to talk individually with admissions representatives from various universities. EvCC usually holds two university transfer fairs annually, and the dates can be found on the school's website before they arrive. If you need information about transferring, it could be one of the most effective strategies in your academic plans.