The Clothesline Project, accompanied by representatives from Domestic Violence Services of Snohomish County (DVS) and Trojan Activities Board coordinators, filled the Russell Day Gallery with T-shirts, candles and an air of solace for three days during the week of Oct. 23.
The exhibit consisted of shirts in various colors strung along clotheslines, decorated with declarations of resilience against domestic and dating violence. A black board placed near the gallery entrance, adorned with miniature clotheslines, provided a space for students to leave their own messages of solidarity by writing on paper T-shirts and pinning them up. In addition, visitors were invited to take a pin or purple ribbon from a table to display on their backpack or clothing as an expression of support for those affected.
"We have been hosting the Clothesline Project at EvCC for 20 years," Student Life advisor Lindsay Hudson said. "The shirts that were displayed at this year's Clothesline Project were actually created by survivors of domestic violence at an event hosted by EvCC's Women's Center and the… Domestic Violence Services of Snohomish County in 1991."
According to the Clothesline Project website, "The purpose of this project is to increase awareness of the impact of violence and abuse, to honor a survivor's strength to continue, and to provide another avenue for them to courageously break the silence that often surrounds their experience."
Story continues below advertisement
Annie Landis, DVS Prevention Coordinator, represented the organization at the event. She started working with Snohomish County because she "had some really bad experiences with relationships in the past and wanted to make sure that youth in the community did not have similar experiences." She wanted to help young people understand the signs of abuse in a relationship and develop the skills needed to pursue healthy partnerships.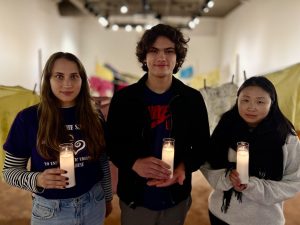 "Anyone can be affected by domestic or dating violence, regardless of race, gender, sexual orientation, class or religion," said Landis.
According to a pamphlet titled "Domestic Abuse Can Happen to Anyone," available at the event and provided by DVS, "At least 1 in 4 women and 1 in 7 men have been a victim of severe intimate partner violence at some point in their lives."
"Check in with friends if you notice something feels off," said Landis, offering some recommendations for how to help prevent dating violence. "Learn the signs and recognize what abuse looks like… (and) learn about what resources are available in our community."
Landis also said it's important to call out anyone who makes jokes about abuse or "comments that are derogatory to anyone… End the culture of complacency."
According to the Clothesline Project website, "The (event) originated in Hyannis, Massachusetts in 1990, when a member of the Cape Cod's Women's Defense Agenda learned that during the same time 58,000 soldiers were killed in the Vietnam War, 51,000 U.S. women were killed by the men who claimed to love them."
The Clothesline Project's original collection of T-shirts is displayed annually at Utah Valley University. 30-50 shirts have been decorated and added to the collection each year for the past five years. They have an estimated total of 2,000 shirts decorated by survivors of partner violence or by the loved ones of those killed as a result of it.
The colors of the shirts signify different forms of abuse. For example, a yellow shirt represents someone who survived physical assault or domestic violence, while a white shirt represents someone who died because of the violence they endured.
The DVS pamphlet calls attention to some of the warning signs of intimate partner violence. If one partner regularly criticizes or puts down the other, that can be a sign, as can deliberate interference with their partner's work or education, limiting their access to financial accounts, restricting their access to friends or loved ones or any sort of unwanted physical or sexual contact.
If you or a loved one are experiencing signs of abuse or dating violence, there is help and support available.
Resources:
24/7 Support Line for Snohomish County: 425-25-ABUSE
Domestic Violence Services of Snohomish County Website
DVS Instagram
DVS Facebook