Trojan Men's Basketball Pick up Division Win, Rout Whatcom
EvCC's Jadin Penigar scores 26, Tyriq Luke pitched in 20
The Evcc men's basketball team emphatically ended their 4-game losing streak on Saturday, Feb. 11, routing the Whatcom Orcas 106-73 at the Walt Price Center. Mike Trautman's squad received a boost in their lineup with Colton Spencer (Wrist) and Tucker Molina (Leg) returning from injuries, each playing over 15 minutes in Saturday's victory. "They're two of the best players in the league, so it's a big deal to have them back in the lineup." Trautman said.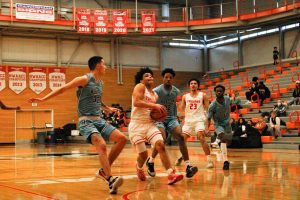 The Trojan's utilized the first 5 minutes of play as a way to set the tone for the game, jumping out to an early 18-4 lead before going into the locker room up 48-27. Consistency shooting the basketball was key for the Trojan's in getting back on track in North division play. Trautman's emphasis on his team taking quality looks helped the Trojan's shoot 51% from the field for the game, including nearly 44% from beyond the arc. "We made a lot of shots tonight and when we make shots consistently things tend to go really well." Trautman said.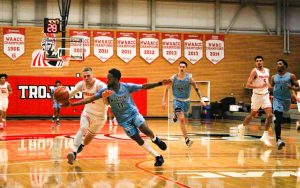 Redshirt freshman Jadin Penigar shined once again, scoring a game high 26 points on 9-15 shooting including 7-11 from 3-point range. "We stuck to the game plan and made plays for each other as a team tonight." Penigar said of the team's fluidity offensively. Freshman guard, Tyriq Luke also had an active night, adding 20 points on 8-16 shooting with 7 rebounds and 6 assists.
Whatcom's NWAC struggles continued, shooting just over 34% from the field for the game en-route to their league worst 17th loss. The Orca's leading contributor on the night was freshman guard Yahsani Humphrey, scoring 15 points on 5-11 shooting in the defeat.
Trautman attributes the Trojan's recent woes before Saturday's victory as not only a health issue, but also an issue on the boards. "I think rebounding was the biggest reason why we lost a couple games in a row, that's been a big emphasis for us for a couple weeks now. We rebounded really well tonight." Trautman said of his team's adjustments.
The Trojan's, 18-6 (5-4), look to complete the season sweep of the Shoreline Dolphins at home on Wednesday, Feb 15 at 7pm. The Trojans defeated the Dolphins earlier in the season on the road 78-66.
Leave a Comment