Everett Marina Waterfront Gets a Makeover
The city of Everett is due for some big changes. By this time next year, you may not recognize the main focal point of the city. The Port of Everett Marina, or Waterfront Place, is currently home to our ORCA program which is nestled on the waterfront.
A development plan for the marina is already well underway and it will be extensive in cost, construction, and impact. Currently, there are several restaurant establishments and shops located on the waterfront, but they will soon be joined by seven new eateries and a fine dining restaurant near the water's edge. Additionally, a 142-room waterfront hotel will also be constructed. These large-scale projects have not gone unnoticed by the staff and students residing on the waterfront.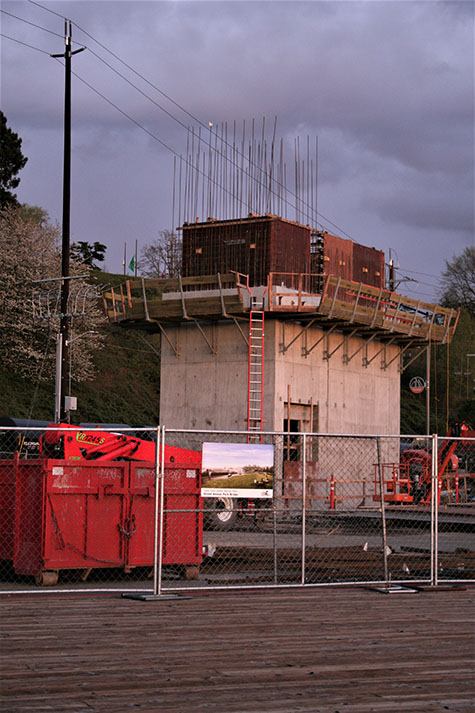 When construction began in September of 2017, former student Nathan Haskin said, "Well, I wouldn't say it complicated parking, but our whole parking area was moved from the side of the building to the lot across the street and in front of ORCA. The old lot was where a lot of construction was going on. So it more just changed parking, plus there were no parking lines in the new lot so you would get boxed in quite regularly on accident."
And it seems that the parking situation has remained essentially the same as the construction has progressed. When asked about the effect on parking and commuting amid the construction, current ORCA student Hannah Reynolds stated, "The construction vehicles have their own parking area, so neither the teachers nor the students have to deal with lack of parking. Honestly, it doesn't affect anything in my opinion."
Naturally, the state of the local environment will also be affected by the development. Ardi Kveven, the Executive Director of the ORCA program said, "For example, when you build more structures, there are more opportunities for runoff water. Some of our runoff is really hard on our salmon." But, she goes on to summarize that using this construction as a tool for greater public awareness will be more beneficial for the environment and community. "If more people understand the region we live in, the better we can protect it."
Despite potential concerns regarding environmental safety, the Waterfront Place construction will generate 2,075 family-wage jobs as well as temporary construction positions. According to the Port of Everett website development plan, it is also projected to make $8.6 million dollars annually in state and local tax sales.
Another monumental element of the project is a pedestrian bridge to be constructed from Grand Ave to near 16th street in the downtown area, about five blocks from EvCC. This pedestrian bridge will be 257 feet long and will be a stroller and wheelchair friendly. The bridge will create a new route to easily travel between the waterfront area and downtown. The bridge could also create a less car-centric environment by bridging the main campus to the ORCA campus. When asked about potential student use, Kveven said, "I hope students utilize it, I know students who drive but also walk both ways." It is expected to be finished at the beginning of 2019.
Additional public amenities will include two large-scale parks, one children's playground, seven vistas with 4 elevated viewpoints, an outdoor performing arts venue, and a clock tower. Full completion of this project is expected in 2020.
Leave a Comment