Emerald City Comicon
A tale of nerds, geeks, and fans
March 14, 2017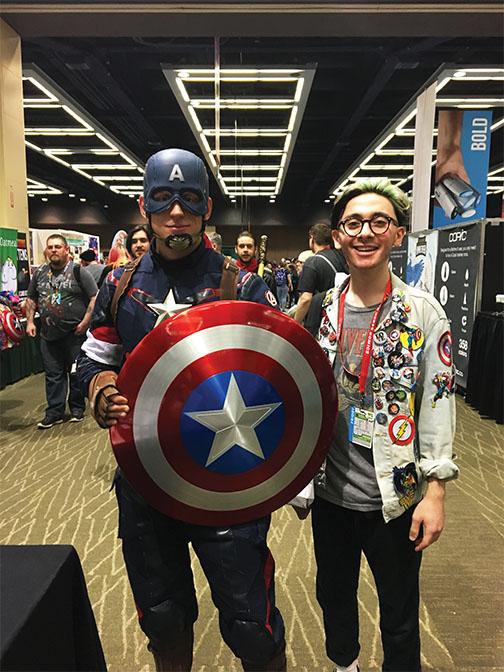 Nerds, geeks and cosplayers, oh my! During four days in early March, this is all the eye could see in downtown Seattle near the convention center. Why, you ask? The yearly event known as Emerald City Comicon (ECCC) is the reason.
Throughout the years, people of all age, race and background have gathered together at this event to celebrate what they love. This could include anything from sci-fi to comic books. Now, it isn't the same people every year, new people join the ever-growing event.
Alex Normand, an EvCC student, is one of these people. When asked how he got into the world that the con surrounds, he responded with, "I actually didn't get into comics until the Deadpool movie came out and the day after I saw it I went straight to my local comic shop and probably spent way too much money."
ECCC is spread across the convention center. There is everything from panels to autograph sessions and photo ops. This year there was even a performance by the Jet City Saber Guild, which a member of the eLearning team, Hannah Lovett, is a part of. Something that spreads across an entire level is the sales floor. Here people can buy a plethora of things from whatever fandom they are from. Need a cosplay sword? Check out the costume shop booth. What about bronze age comics? Shops and individuals have booths all around the floor.
A popular part of the con is cosplay. Cosplay is the act of dressing up as a character you enjoy from a show, comic, etc. Ian Ramey, an EvCC student, has cosplayed multiple times at ECCC. "I went as the season one version of Rick Grimes from the Walking Dead," and later explained, "once every 20-30 feet I'd get asked to have a picture taken." The Walking Dead is a favorite cosplay among the patrons at this years con. Common cosplays change year to year depending on what movies recently came out and what shows are currently on air.
Although ECCC is one of the larger comic book conventions (roughly 20,000 in attendance as of last year) it is nothing compared to the San Diego con. As of last year, Comicon international (hosted in San Diego) over 130,000 people were in attendance.
If you like the idea of dressing up as your favorite character, meeting some actors and artists or buying some new reading materials and toys- the con is the place to be.