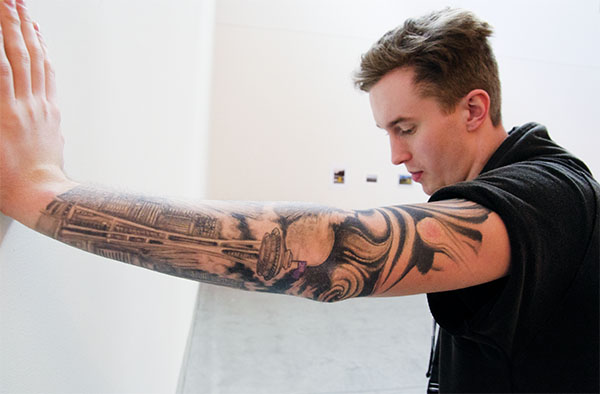 Dakota's Tattoo Journey
Capturing a life story through tattoos
March 14, 2017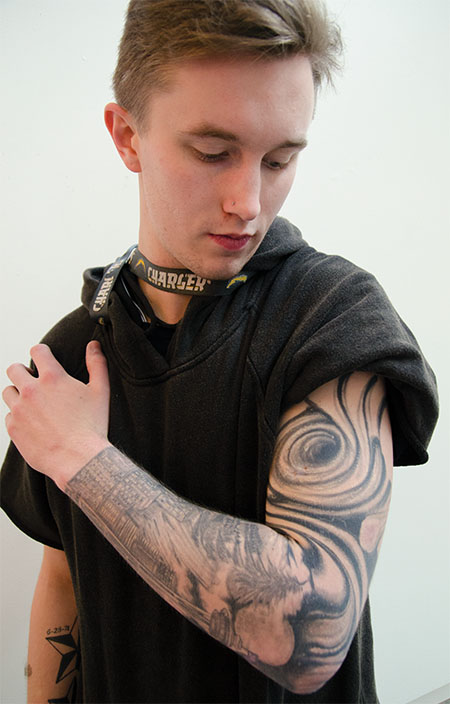 The Seattle skyline and never-ending horizon of Evergreen trees make for an iconic scene. On Dakota Williams, it's something more.
The 21-year-old EvCC student has tattoos that were thought of back in middle school. Growing up, Williams watched his uncle get several tattoos, inspiring him to do the same. "I thought about getting a tattoo just like the rest of my family," Williams said. His mom, dad, uncle and brother all have tattoos.
But before getting his first tattoo, Williams needed to make sure he wanted it. He eventually decided to return to his origin: Seattle.
"I picked Seattle and the Space Needle to always remember my roots and show where I live- in a beautiful Evergreen-filled state," Williams said.
This idea took shape at the age of 18 when the picture of his childhood home, the Pacific Northwest, stained his arm in a sleeve. It took 9 and a half hours to complete.
While his first tattoo was inspired partially by his uncle, his second one was from his dad.
When his father died in a motorcycle accident in 2015, Williams decided to get the same tattoo as his father on his right forearm. The tattoo was of three stars based on his father, himself and his brother. Williams also printed the date of the accident near the stars.
He wanted to highlight his father's story with by getting the tattoos. Williams wanted to tell a story and show off who he is. Another reason Williams got his tattoos was to show difference from others around him.
Williams' future tattoos consist of the outer space on his chest, Greek mythology leg sleeves and his right arm sleeve.
Williams' story through tattoos is creative; each tattoo has an intense thought process behind it.
Williams said, "When getting a tattoo, always remember it is there forever, so choose your ideas wisely."