Namaste the Stress Away
College is the most stressful time of someone's educational career- balancing school and work, harder assignments than ever and managing time more efficiently makes college hell on earth.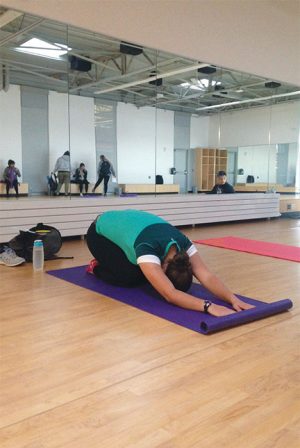 There is no doubt that college is hard and while some students handle college well, every student still deals with some stress. Yoga can be your solution.
Beverly Anderson, the Beginning Yoga instructor at EvCC, has practiced yoga for years and said that yoga can be beneficial to students who struggle with balancing their lives.  According to the experienced yoga instructor, yoga "makes a difference on a personal level [if you] breathe deeply and slow down," helping the person focus on what is most valuable to them.
Anderson said that while the main goal of yoga is to "come back to homeostasis", it also helps "subside the pattern of holding onto stress". By practicing the poses, the person moves the energy through their body, releasing all the negativity while keeping completely focused on how he or she is feeling.
It is important to follow each pose correctly and listen to the body because, as Anderson explained it, "Yoga has a calming effect on physiology" and helps "rest, restore and rejuvenate".
Teagan Fife, a student in Anderson's morning yoga class, benefits from yoga every morning.
Fife carries stress with her after having recently finished up Running Start and is currently taking 14.5 credits. Much like other students, she comes to school stressed in the morning thinking about what the day has in store for her.
"I've been way less stressed this quarter," Fife said, thanks to her yoga class in the morning.
She also enjoys doing yoga outside of class and frequently shows her favorite poses to her younger siblings. Yoga does not take long to do and therefore Fife recommends yoga to everyone.
It doesn't take long for the effects of yoga to take place.
According to TheYogaChannel.net, "Taking about 15 to 60 minutes four or five times a week to do yoga can help keep blood pressure down and remove some of the stress that leads to high blood pressure and heart problems."
Although the calming effects of yoga can be fulfilled in only a short amount of time, classes here at EvCC usually last around 50 minutes.
EvCC offers Beginning Yoga for the students who have never done college-level yoga as well as an upcoming Yoga Club.