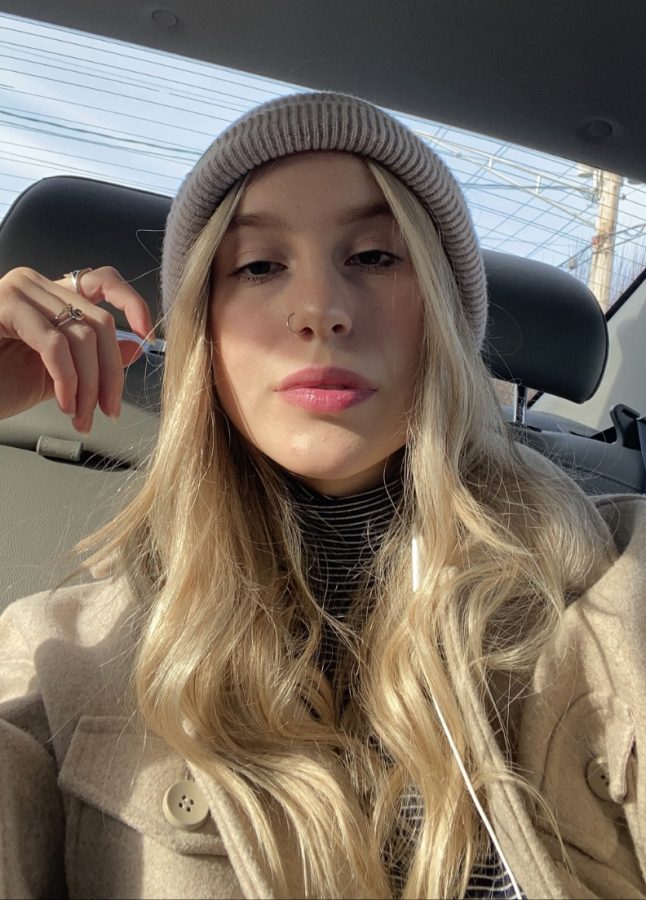 Which fictitious figure do you most identify with?
Fellow editor Sydney Jackson said that I am like Cher from Clueless on the outside and Wednesday Addams on the inside.
What living person do you most admire?
I most admire my mom. She is the strongest, most hard-working person I know and is my best friend.
Where would you most like to live?
In my dream world I would want to live in the Italian countryside. Specifically in the villa that was in Call Me By Your Name.
Which words or phrases do you most overuse?
Oh my god.
Madelyn Olson, Managing Editor Of Digital
Jan 12, 2021

Out with the Old, in with the New Traditions

(Story)

Nov 18, 2020

Facing the Music: Female Empowerment in a Male-Dominated Industry

(Story)

Nov 11, 2020

Celebrating Holidays During COVID-19

(Media)

Oct 30, 2020

Modern Séance: Searching for a Connection

(Media)

Oct 28, 2020

Cannabis and College Students: Help or Hindrance?

(Story)

Oct 09, 2020

The Scoop on Student LIFE

(Story)

Sep 24, 2020

The Clipper's Declassified Online School Survival Guide

(Story)

Jun 10, 2020

A Conversation with Local Black Lives Matter Activist Sierra Taylor

(Story/Media)

May 19, 2020

Quarantined Corgi Gets a Bath

(Story/Media)

May 01, 2020

Quarantine Crafts: Sourdough Cinnamon Swirl Bread

(Story/Media)

Mar 05, 2020

Treat Yourself During Tax Season

(Media)

Feb 20, 2020

Owning Your Sexuality

(Story)

Feb 11, 2020

EvCC Students Discuss Pick-up Lines for Valentines Day

(Media)

Nov 21, 2019

Holiday Cooking with an EvCC Student

(Story/Media)

Nov 19, 2019

Vine: Gone but Not Forgotten

(Media)

Nov 01, 2019

Nightmare on Tower Street Club Fest: Halloween Costume Contest

(Media)

Oct 30, 2019

Favorite Halloween Candy

(Media)