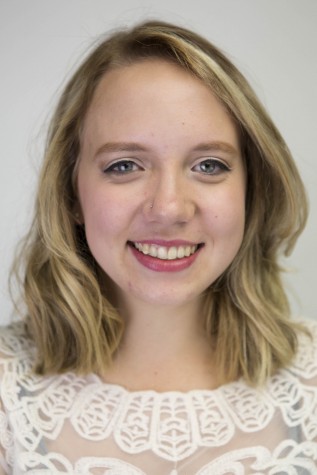 What do you like to write about?
I love writing about interesting people. Profiles on people really make me happy, and I love all of the interesting characters that I get to meet. If I could just write profiles I would be pretty happy.
What are your future plans in journalism?
I plan on continuing my journalism education next year at Washington State University North Puget Sound Everett. After that, I want to work in the communications or journalism industry, as long as I am telling stories I'll be content.
What Disney (or fictional character) are you and why?
I am definitely Stitch. I own a Stitch onesie that I wear around the house to stay warm, and I hula dance. Im also cute and fluffy.
How to contact you!
You can find me on Twitter: @sam_m_chapman or email me: chappysamantha@yahoo.com
Samantha Chapman, Editor-In-Chief
May 31, 2016

Outgoing Letter From the Editor

(Story)

Mar 07, 2016

Name Chosen for New Student Housing

(Story)

Mar 07, 2016

Students Work Spreading DUI Awareness

(Story)

Feb 22, 2016
Feb 18, 2016

U.S. Senator to Visit Campus

(Story)

Nov 16, 2015

Coming Soon: One Act Plays at EvCC

(Story)

Nov 16, 2015

Donating Blood at EvCC: What You Need to Know

(Story)

Sep 18, 2015

Letter From the Editor In Chief 2015-2016

(Story)

Jun 01, 2015

Not Your Average 9-5: Where EvCC Students Work

(Media)

Jun 01, 2015

The Clipper Interviews Sara Schaefer

(Media)

Apr 21, 2015

Recent Emergencies at EvCC

(Story)

Apr 20, 2015

Wild: From Lost to Found on the Pacific Crest Trail

(Story/Media)

Apr 20, 2015

Holocaust Survivor Visits EvCC

(Media)

Feb 17, 2015

College with a Waterfront View: Attending Classes at EvCC's East County Campus

(Story/Media)

Feb 17, 2015

Is Privacy Real Anymore? Alex Alben Speaks to EvCC Students

(Story/Media)

Jan 28, 2015

EvCC Gather and Connect with help of the Diversity and Equity Center

(Story)

Dec 02, 2014

Ed Skoog: Rebuilding with Stanzas and Metaphors

(Story/Media)