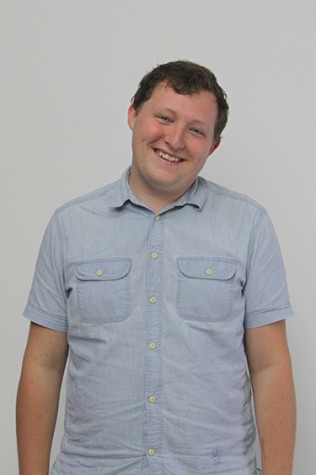 How did you get here?
I got to the clipper because I love photography and was looking into way s to continue to do it after traveling around the world for two years as a photographer. And through a photography club meeting i found the
clipper and have been here ever since.
Why do you love The Clipper?
I love the clipper because its just plain awesome. That is all.
Who is your favorite superhero or villain?
There is no question, Batman is the best super hero of all time. I don't really care if he is not technically a "Super" hero because he docent have powers. He gave himself powers, and made himself awesome.
 What is the worst thing you have eaten?
surprisingly I have not eaten anything to crazy, i have had grilled crickets with lime. Goat is pretty good, liver is not to bad. I am almost 100% sure i have eaten horse at one point or another.

Nathaniel Lynch, Visuals Editor
Jun 02, 2015

Tomorrowland Brings Visions of Hope For The Future

(Story/Media)

May 12, 2015

A Musical Journey Through The Beatles Discography

(Story)

May 12, 2015

The Return of Mumford & Sons

(Story/Media)

Feb 17, 2015

The New 3DS is Totally Worth it

(Media)

Feb 17, 2015

5 Things to Think About Before You Travel

(Story/Media)

Jan 28, 2015

Learning Resource Center: Decentralized?

(Media)

Dec 02, 2014

Trojan Women = Champions

(Media)

Dec 02, 2014

ORCA Makes a Splash With Dedication of New Boat

(Story/Media)

Dec 02, 2014

Katniss Everdeen: The Girl On FIYAHHHHH

(Story)

Dec 02, 2014

EvCC says 'Goodbye' to Educational Planning, 'Hello' to Counseling

(Media)

Dec 02, 2014

Letter From the Visuals Editor

(Story)

Nov 24, 2014
Nov 12, 2014
Nov 10, 2014

Project Mayhem Comes to Russel Day

(Story/Media)

Nov 10, 2014

The Sustainability Initiative Aims to Turn EvCC Green

(Media)

Nov 10, 2014

Six Things You Should Know About Ebola

(Media)

Oct 28, 2014
Oct 27, 2014

Advertising Manager

(Media)

Oct 27, 2014

Support for MP Students

(Media)

Nov 12, 2009
Oct 15, 2014

Letter From The Editor VOL.71 ISSUE 1

(Media)

Oct 15, 2014

EvCC Crosses Broadway With Amtec

(Media)