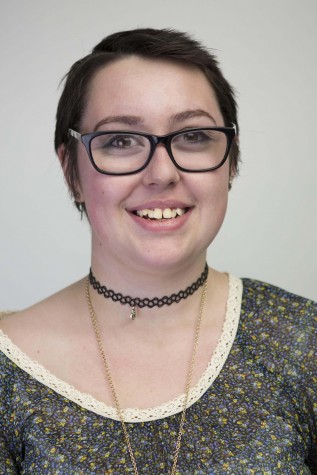 What do you like to write about?
I love to write about food, music, and anything of that nature really.
What are your future plans in journalism?
 Surprisingly I have no future plans in the journalism field! I'm hoping to graduate with my AA in photography and my BA in forensic imaging and crime scene investigation before moving into a forensic photography job with the FBI.
What Disney character are you and why?
I would have to be Ariel, just due to the fact I was a competitive swimmer for 6 years, and to this day love water more than I like most things. Plus, clam bras.
What is the best way to contact you?
My student email is best, [email protected]
Katja Wahl, Staff Writer
Mar 14, 2017

Listen Up! A Review: Bea Miller's "Chapter One: Blue"

(Story)

Mar 14, 2017

Emerald City Comicon

(Story/Photo)

Mar 02, 2017

EvCC Students' Style

(Photo)

Feb 21, 2017

Top 10 Spring 2017 Fashion Trends

(Photo)

Feb 21, 2017

Listen Up! A Review: Katy Perry's "Chained to the Rhythm"

(Story)

Feb 02, 2017

Balderas and Chibuogwu Carry Trojans to Victory

(Photo)

Jan 31, 2017

Listen Up! A Review: Colony House's "Only The Lonely"

(Story)

Nov 29, 2016

Studio Art Major Annie Loomis

(Story/Photo)

Nov 28, 2016

Listen Up! A Review

(Story)

Nov 01, 2016

College Student by Day, Body Builder by Night

(Story/Photo)

Nov 03, 2016

Pulling Back the Curtain

(Story/Photo)

Nov 01, 2016

New Season, New Coach

(Photo)

Oct 31, 2016

Listen Up! A Review: Michael Buble's "Nobody but Me"

(Story)

Nov 02, 2016

Bigger, Faster, Stronger

(Photo)

Oct 27, 2016

Hearts on Sleeves

(Photo)

Oct 18, 2016

We're Here and We're Queer

(Story/Photo)

Oct 11, 2016

Listen Up! A Review

(Story)

Oct 08, 2016

Namaste the Stress Away

(Photo)

Oct 06, 2016

Everett Volleyball Looks to Bounce Back After Slow Start

(Photo)

Oct 01, 2016
Sep 29, 2016

Everett PD Tackles Homeless Epidemic

(Photo)

Sep 23, 2016

Women's Volleyball Season Opener

(Story/Photo)

May 31, 2016
May 11, 2016

'Sometimes It Snows in April'

(Story)

May 05, 2016

Listen Up! A Review: Mayer Hawthorne's "Man About Town"

(Story)

Apr 18, 2016

A Journey to Emerald City

(Story)

Apr 14, 2016

Listen Up! A Review: Lukas Graham's "Blue Album"

(Story)

Feb 22, 2016

Your Corner of EvCC: Finding Your Perfect Study Place

()

Feb 15, 2016

Animal Free: Veg Eats On Campus

(Story)

Feb 04, 2016

Listen Up!: The Dollyrots Drop "Mama's Gonna Knock You Out"

(Story/Photo)

Jan 18, 2016

Tight Budget Fixes: Thrifting Your Way to Fashion

(Story)

Dec 01, 2015

Student on the Street: A Short Report on Campus Traffic Etiquette

(Photo)

Nov 30, 2015

Finding a Study Safe Haven

(Story/Photo)

Nov 19, 2015

Where are you Going? Transfer Tips for the Community College Student

()

Nov 19, 2015

Listen Up! A Review: One Directions "Made in the A.M."

(Story)

Nov 10, 2015

Jet City Comic Show 2015

(Story)

Nov 05, 2015

Hallo-Scream Fest: Student LIFE Hosts Costume Contest

(Story)

Nov 04, 2015

EvCC Alum Hosts Punk Show

(Story)

Nov 02, 2015

Listen Up! A Review: Emily Kinney's "This Is War"

(Story)

Oct 12, 2015

Campus Scavenger Hunt

(Story/Photo)

Oct 12, 2015

Fall Fun: Family Farms

(Story)

Oct 08, 2015

Listen Up! A Review: Meg Myers "Sorry"

(Story/Photo)

Sep 26, 2015

Lady Trojans Take the Win: Volleyball 9/25/15

(Photo)