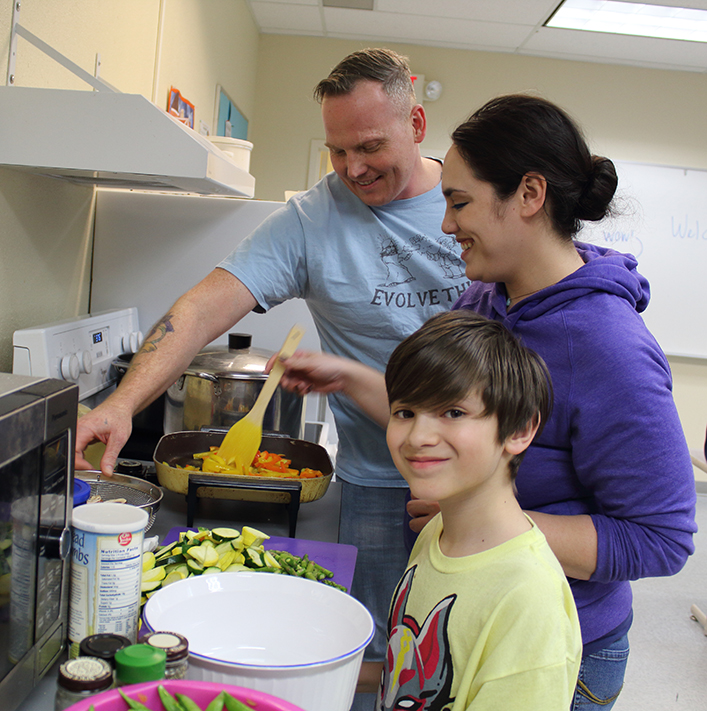 Jane Bowman
The sweet taste of basil, the scent of lemon bars, a hint of vanilla, freshly baked bread, a mixed green salad with olive oil, melted cheese on thinly sliced eggplants, marinara sauce and meatballs over pasta. All these pleasant aromas filled every corner of the room making mouths water at the first Community Kitchen Club dinner of the year. But it is the warm smile on everyone's faces that lit up the room. Young and old, friends and families, came together to cook, to eat and to mingle.
The Community Kitchen Club at EvCC was founded by Rebekah West in May 2018. Since then the club has hosted dinners and brought people together.  Jan. 31, 2019 was this year's first dinner where everyone who came helped to cook. To cover the cost of the mostly organic and locally grown ingredients, there was a $5 charge per person to have a hearty meal. This would normally cost $20 to $35, or maybe even more depending on where you go.
"There is a two-fold purpose for this club. First, is to bring people of different backgrounds together and second, is to facilitate learning to cook from scratch," West said. She added that cooking from scratch is a sustainable way of eating.
Some of the people who came have been coming since the founding of the club but most came for the very first time. By the end of the night, people were satisfied from delicious meals, made new acquaintances and everyone had a bigger smile. The next dinner is only a month away and everyone is looking forward to coming back to the Community Kitchen Club.
For more information about the club, or to RSVP for the next dinner, email [email protected]
Click through the photo gallery for more photos from the gathering: