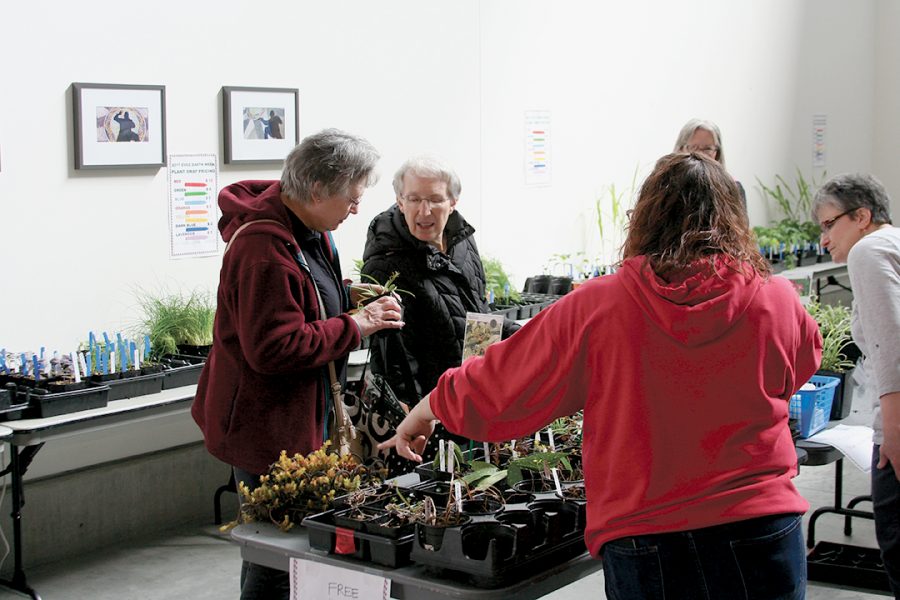 Morgan Hoyt
The critique space of Whitehorse Hall became a miniature jungle on Tuesday, April 18. A variety of plants were for sale or given out for free. Students and guests left with trays of herbs, flowers, succulents and other plants. Students were encouraged to bring their own plants to trade. This earned them a spot in the raffle for a chance to win a Japanese Maple sapling.
This event was the annual Plant Swap and Sale from 10 a.m. to 1 p.m. The Students for Environmental Action (SEA) club sold vegetable garden starts to benefit the campus sustainability initiative.
The art club was also a part of the event. To raise money for the EvCC art club, students in pottery classes made unique clay pots and sold them at the event.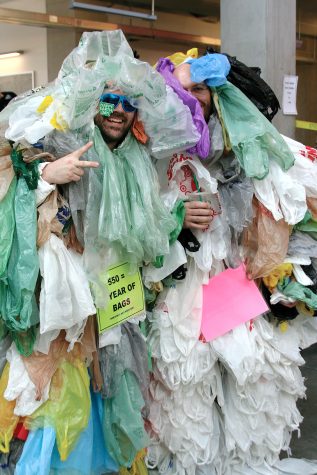 The Bagfoot, a so-called urban legend, promotes giving up plastic and switching to eco-friendly materials, such as reusable grocery bags and water bottles. Two of these mystical creatures were spotted at the event. Their body is made of 550 plastic grocery bags, the number the typical American consumer uses each year.
Experienced gardeners, as well as amateurs, were welcomed at the event. Some made it into a family event, bringing their children along to teach them the basics of gardening.
Juliann Leclair, an EvCC student, said, "I've gardened for a few years. I'm not very good at it, but I'm trying," she laughed and continued, "I love plants. They're so cute."
To help beginner gardeners, author and TV personality, Ciscoe Morris, attended the event. Ciscoe is most well known for his TV show, "Gardening with Ciscoe". He spoke from noon to 1 p.m., answering students' questions and talking about his gardening experiences in the Pacific Northwest.
Rather than celebrating Earth Day for just one day, EvCC makes it a week-long event each year. The Plant Swap and Sale was just one day of the fun. Read more about the rest of the week here.