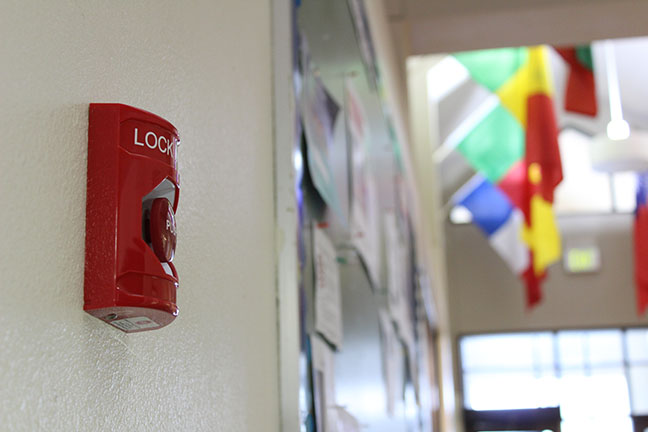 Emma Kilgore
It was the spring morning of April 20, 1999 that forever altered the way schools manage security. Columbine heralded a new norm for students- mass shootings.
Eight years later, the second-largest mass shooting on U.S. soil occurred at Virginia Tech where 32 lost their lives. Four years later, 26 people were killed at Sandy Hook Elementary School. Of that number, twenty were children aged 6 and 7.  Two years later on Oct. 24, 2014, four students died in the cafeteria of Marysville Pilchuck High School.
The website, Gun Violence Archive, (GVA) classifies mass shootings as four or more victims who were injured or killed. In 2016, GVA recorded 385 instances of mass shootings compiled from media, law enforcement, government and commercial sources. For the fleeting month of January, there have already been 28 incidences.
With that number hanging over your head, what's there to do?
Know Your Campus
One security measure EvCC has is InformaCast, an emergency notification that can send a message to all landlines on campus. Enhanced speakers were installed this last year for the intercom.
Along with InformaCast, EvCC recently installed Access Control, a system provided by Sonitrol. Access Control replaces keys with cards given to certain faculty and staff members- anyone who needs access to that building.
"This makes them quite a bit safer," Emergency Management Program Coordinator Russ Nunes said. Unlike a traditional key, cards are deprogrammed if lost, rendering them unusable if found or stolen.
Eleven buildings on campus have Access Control, and that number is expected to grow as buildings are rebuilt. When Access Control is installed, "Lockdown" buttons are installed as well.
At the press of a button, all of the main entrance doors to a building are locked electronically. You can still leave the building, but the doors will lock behind you.
In the case of an active shooter event, "do your fellow students and faculty a favor and hit that lockdown button," Macklin said.
Three buttons are in Parks Student Union alone, one in the Library and two on the second floor. While the word "lockdown" is displayed across them, the buttons aren't exclusive to a particular event.
Rainier, Olympus and Student Parks went online in fall of last year. Gray Wolf, Whitehorse, Shuksan, Liberty, the Walt Price Fitness Center, Early Learning Center, AMTEC and Jackson have had the button system since 2015. (reword)
That being said, you can't only rely on the college for your safety.
Use Your Tool Box
Every building on campus has a lockdown drill two times a year. While it is not mandatory to participate, Nunes urged students and faculty to practice the drills. "These drills become another tool. They program you so you can react."
"It's making a decision ahead of time on what you're prepared to do," Chuck Macklin, director of campus safety and emergency management, said.
In an emergency situation, the body relies on the brain's "tool box", or muscle memory. Macklin mentioned the military veterans and police officers on campus, saying, "It's my guess they're absolutely prepared." He went on to say he doesn't believe most students are.
EvCC's Emergency Management has a link for "Run. Hide. Fight.", a short video highlighting the three responses to take during an active shooter event.
The three key options for survival are:
Run
And don't look back.
Evacuate whether others do or not
Help others escape if possible
Call 911
"If they're over to the east, run to the west," Macklin said. If you see someone unknowingly head towards danger, try to stop them. Your friends might want to stay behind. Try your best to get them and others to come with you, but if they don't move, leave them.
Hide
This is a last resort. If you still can, escape.
Silence your cell phone
Choose a spot outside of shooter's view
Lock or blockade the door if possible
Don't even keep your phone on vibrate. Remain silent and ready to flee, so pick a spot that won't corner you. The ideal hiding spot would provide cover for any shots fired your way.
Fight
Debatably the 'last resort'. Up to interpretation.
Improvise weapons
Aim for the gun
Follow through
The emphasis is on separating the gun from the shooter and committing to your actions. Get the gun out of their hands, and whatever you do, don't stop fighting. Shooters don't expect to be attacked by those they're attacking. If you can keep them confused, all the better.
Unfortunately, there's a fourth option on the list that too many take: freeze. In an article by The New York TImes, the 'freeze' response is examined as a predatory defense. By freezing you limit the possibility of detection by the predator- or at least, that's the idea.
Nunes mentioned tragedies such as Columbine and Aurora, saying, "There were so many who just froze. That's the thing with run, hide, fight. You need to have it between your ears."
The fact of the matter is, you are responsible for your safety. Be aware of your surroundings. Report anything suspicious.
"You know the old saying, 'It takes a village to raise a child.' Well, it takes a village to make this campus safe," Nunes said.
For more information on campus safety, visit EvCC's Campus Safety, Security and Emergency Management page.