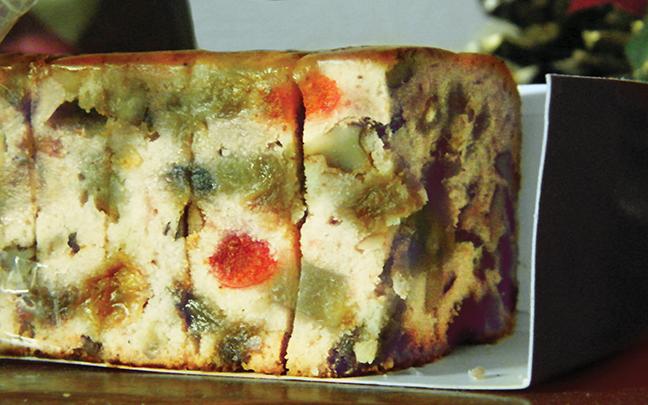 Emma Kilgore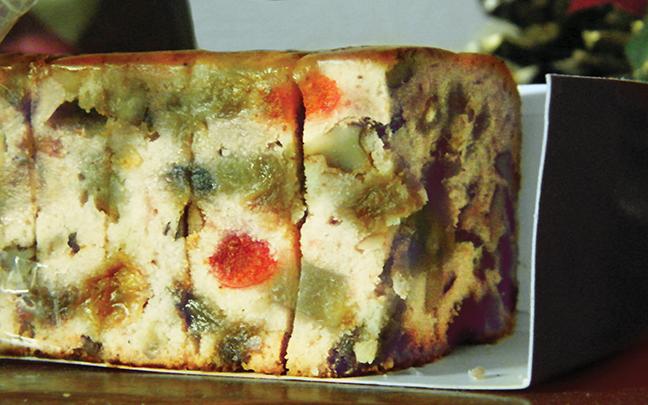 Fruitcake.
People use it to prop open doors. Prank their friends. Throw at their enemies. Frankly, it's below socks on the Christmas list.
So why do people eat it?
I took it upon myself to interview a few of our students here at Everett Community College. Surprisingly, opinion of the desert was evenly split.
"I like fruit cake," Galina Onyschuck said. "It combines the useful with the delicious."
Jacob Wahlgren thought otherwise. "The fruit and the cake don't mix."
Finding my results slightly lacking, there was only one other route to go. I had to try fruitcake myself, and despite the overwhelming enthusiasm from the fruitcake lovers, the equally disturbed looks of the haters made me hesitate.
Fruitcake is known for its preservability.
Some say that allowing the cake to sit on the shelf for a few years improves the taste. I say that characteristic should be reserved for cheese only.
But for the sake of the people, one Wal-Mart trip later brought a sliced loaf of fruitcake to my kitchen table. I opened the plastic wrapping with morbid curiosity. The candied fruit pieces are truly something special.
I tried a sniff and immediately gagged. Imagine vinegar and raisins and you'll start to get the picture. I nibbled at the corner end and wasn't too disappointed. The texture was dry but the taste wasn't that bad. But after a few bites, the smell got to me and I had to put the cake away.
While opinion of fruitcake was sliced fifty-fifty, all agreed that store-bought fruitcake was the worst. I think I agree.
"I like fresh fruit, but, I don't know…" Courtney Fitzmaurice said with a frown. "I like cake, but I don't like fruitcake." She had only tasted store-bought.
Some had never tasted the dessert and remained optimistic. "I've never tried it, but I've always thought it would be good if you warmed it up and put butter on it," said Alyssa Thompson. "Like toast."
Although no cake should taste better like toast, Thompson might have been on to something.
I slathered on butter and popped it in the microwave. The smell wasn't better, but the texture softened up enough to make a noticeable improvement.
Laura Wild, one of our nutrition professors here at EvCC, gave her input on fruitcake from a professional standpoint.
"It does have fruit in it, which makes it better than other desserts," Laura said. "It's probably not a whole lot more nutritious than, say, chocolate cake, but it's better than some."
Encouraging. While I'm always happy to have another reason to eat chocolate cake, December is a time of cinnamon and peppermint and, you guessed it, fruitcake. I try to stay seasonal.
But.
Forget about what I try to do. Here's the question you should ask yourself: 'Should I try it?'
Don't let other's opinions sway your choice. "I think it gets a bad name because people have only had bad fruitcake," Laura explained. "There's good fruitcake out there."
However, our nutritionist professor may be a bit biased.
"I love it," Laura said. "I make my own, my kids like it. But that's 'cause it's not rock hard like other ones."
I say try it. Who knows? You might like it.