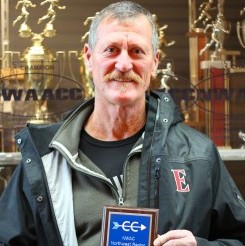 It may be hard to meet a more dedicated and genuine coach than EvCC Cross Country Coach Frank Dauncey, who is now a two-time Regional Coach of the Year recipient. The amazing thing about these awards Dauncey has received, is that he is only in his third year of coaching Cross Country at EvCC. The first year was as an assistant coach, so this is only his second year as a head coach. Dauncey originally worked at Boeing for 28 years, while coaching at Snohomish High School for eight of those years and then moving onto Glacier Peak High School afterwards. Finally, he landed here at EvCC.
Dauncey said it was hard to leave schools like Snohomish and Glacier Peak, even though the pay may not have been nearly as good as the collegiate level. He explained that it is hard to leave successful schools such as those two, because of the culture they create. Dauncey added that he wanted to bring that same culture to EvCC. With a Coach of the Year award in each of the two years he has been here as Head Coach, it seems that culture has already started to progress at EvCC.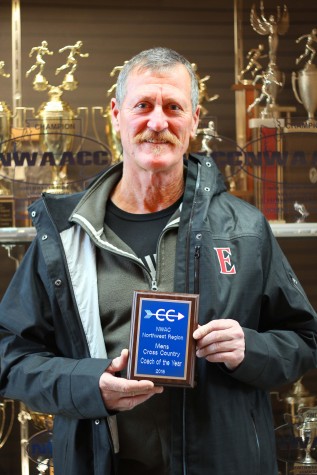 Dauncey said left the job at Boeing behind, for the love for the sport, which derived from him being an All-American in Track and Cross Country at Humboldt State University. Before his career there, it all started at Lassen Community College in Susanville, California. Dauncey started to get the fire back in coaching when he coached his kids in all different sports right out of college until his youngest was about 15 years old. Then he decided to coach track after getting tired of the years coaching youth soccer.
Both sports are close to Dauncey's heart, but what really separates Cross Country from track. Is that Cross Country is more team oriented rather than track, which is more individualized to each athlete. Being a coach here in Everett is not an easy task, training and drudging through the mud, due to all the rainy weather that is received in the Pacific Northwest. Cross-Country according to Dauncey is, " more about the guts and glory, a person has to have real grit to push through with just 7 men/women giving it their all. At the NWAC championships in Vancouver, Washington on Saturday Nov., 14, the terrain was completely soaked. We would never consider cancelling a meet due to bad weather, in fact, we invite it."
At the Championships the EvCC Trojan Men's Cross Country team took sixth place, while the women's team only had two runners race. Dauncey was proud of the way his team ran, but stated that some nagging injuries had plagued the Trojans all year. The Trojans finished strong with hopes of building into next season. It is back to the drawing board for the Trojans, but with Dauncey as coach according to EvCC's Athletic Director Larry Walker " The men's program will continue to be strong and will get much more special attention, since Matt Koenig will take over as the Women's Cross Country coach next year."