The Everett Animal Shelter is looking for responsible pet owners that are looking to adopt and add a new member to their family. Although owning a pet is a big responsibility, many people claim that it has had a positive effect on their mental well-being.
"They have essentially saved my life. I suffer from severe anxiety, depression and PTSD. I recently got into owning tarantulas a few months ago; they have made a huge difference in my mental health and the way I view life," Gabby Ramirez, a student that owns four tarantulas said. "I know everyone is afraid of them and I know they aren't the cutest pet to own, but they have their own personalities and have taught me so much about nature and the life cycle of things."
Located at 333 Smith Island Road, the Everett Animal Shelter is currently accepting appointments for those wanting to adopt and possibly improve their mental state. Mainly housing cats and dogs, the shelter does have a few other species such as birds, rabbits and guinea pigs available for adoption. The shelter handles roughly 200 adoptions per month and taking in as many as 30 animals in one day, the adoption list is being constantly updated.
Kim Mantyla, a staff member at the Everett Animal Shelter, sees mainly cat adoptions for college-age individuals that live on their own. She believes that this is because cats are easier to own, especially while going to school. Those still living at home with their parents are more likely to adopt a dog.
Story continues below advertisement
"(Pets) provide a lot of benefit to the owner. Let's face it, people love animals. It's something to cuddle with and have responsibility for," Mantyla said.
According to the American Psychiatric Association's Healthy Minds Monthly Poll for March 2023, 88% of pet owners surveyed reported their pets had a positive affect on their mental health. Some benefits for those that saw improvements were reduced stress and anxiety; providing companionship, being a calming presence and having the support of a true friend. Eighty-eight percent of people answered that they thought of their pets as members of the family.
"They bring me so much joy… feeding them, looking at them and taking pictures… they give me purpose. I have to get up and take care of them, make sure their water is full and feed them every three to four days," Ramirez said. "So even when I'm depressed and don't want to leave my bed, they kind of force me to get up and do things, which helps my mental health."
"Having other beings that I take care of has helped me a lot in my mental health journey. Anytime that I want to leave this world for one reason or another, I think (about) what would happen to them. I want to take care of them and it gives me another reason to stay here," said Gwyndolyn Wells, the owner of four cats, one dog and two snakes.
Having pets in the home can have benefits to other areas of health as well. Wells states that not only have pets impacted their mental health, they have helped with a health condition that affects blood flow in the body.
"I also have chronic pain, but when the cats purr, my brain focuses on that instead of the pain for a bit. This helps alleviate some of the anxiety that comes with it," Wells said.
Some pets even help their owners with issues that others might not be aware of. Alex Beitzell, a student who owns a 19-year-old cat, receives assistance with keeping track of her schedule. With her cat giving consistent reminders of when it is time to be fed, it aids her in knowing what time of day it is.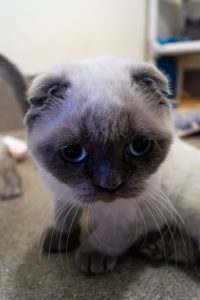 The animals at the shelter can fit multiple different lifestyles. Those with a more active daily life might benefit by adopting Clover, a four-year-old, female Australian shepherd. She enjoys regular exercise and does well around other social dogs. She may be shy at first, but will quickly become your friend.
Bling, a female black retriever Mix puppy about 3 months old, is friendly and always getting into mischief. Anyone wanting to adopt her should be ready for a large breed when fully grown. Being a puppy, she will require socializing with other dogs and training.
The shelter does have certain pets with special needs that require extra responsibility. Futon, a Scottish fold male kitten, was treated for upper respiratory infection when he arrived at the shelter. Dealing with some residual symptoms and having an eye removed, he will need to find the right owner to give him the care he needs.
To set up an appointment for adoption at the Everett Animal Shelter, first a questionnaire must be filled out depending on what animal you choose to adopt. The specific pet you want to adopt will need to be identified by name in order for the application to be processed. Most of the pets adopted are able to be taken home on the same day. Applicants for adoption need to be at least 18 years old with valid proof of identification. The adoption fees will need to be paid at the time of adoption, while pet licenses are required for dogs and cats in Everett and Snohomish County.
The price of adoption fees varies on which type of animal is chosen. Cats can range from $50 up to $300, depending on age. Dogs are more expensive, costing between $150 and $600. The fees for cats and dogs cover spaying / neutering, microchipping, their first set of vaccines, deworming and flea treatment. Dogs will also be fitted with a collar and leash, while cats will have a collar and a carrier. The adoption fees for rabbits and guinea pigs add up to about $45. The prices for birds and other small mammals are based on the species.
If you would like to know more about the Everett Animal Shelter, volunteering, or are interested in adopting, you can visit or set up an appointment on their website at https://www.everettwa.gov/148/Animal-Services.