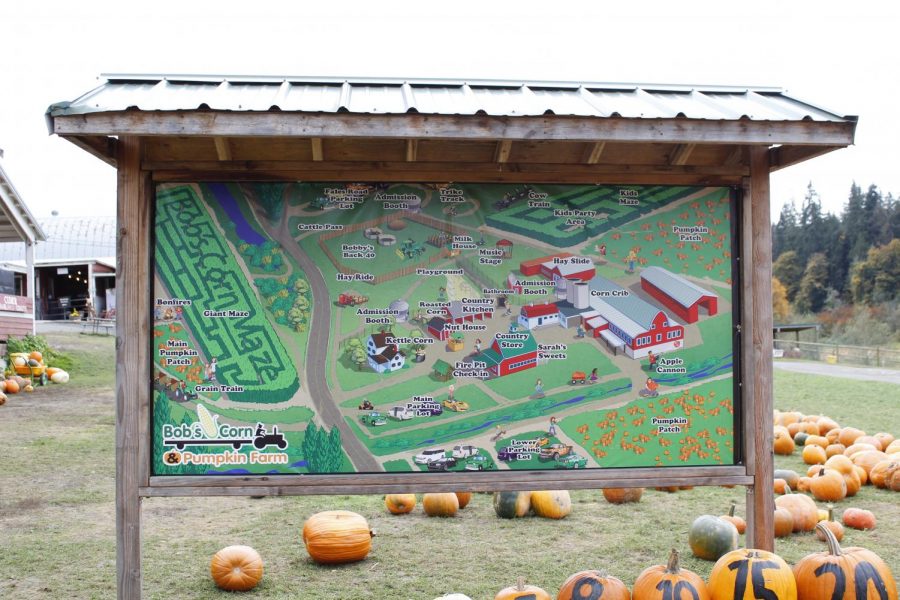 Adrianna Vison-Montgomery
For 131 years, Bob Ricci's family has owned the land that is known now as Bob's Corn and Pumpkin Farm in Snohomish. "The farm has changed. It started off as an orchard, then it turned into a dairy farm. I turned it into agrotourism," says Ricci. In hopes of learning more, we talked to Ricci, as well as an Everett Community College student about what makes Bob's Corn and Pumpkin Farm unique.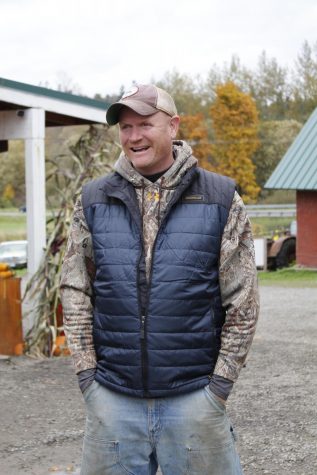 According to their website, the farm boasts a "challenging, 10-acre corn maze located in the beautiful Cathcart Valley," as well as a pumpkin patch with "over 60 varieties of pumpkins, spread over 40 acres total—giant orange pumpkins, tall skinny pumpkins, perfect round pumpkins, and even white, ghostly pumpkins." There's a country store that sells "souvenirs, comfy clothing, locally crafted gifts," and "delicious sweet corn, sugar pie pumpkins, zucchini, and winter squash," and even more. The website adds, "all of our crops are non GMO."
"I would say the best experience we have for college students coming out here is the private bonfire pits," says Ricci. According to the website, Bob's has "a total of 18 firepits located inside the maze which can be rented for private groups and birthday parties. We provide the firewood and tiki torches. We even build and maintain the fire, you get to sit back, relax and enjoy the evening." There are small and large fire pits for differently sized groups, and in the 30-40 minutes it takes one to take the hayride down and navigate halfway through the corn maze, the staff will have set up your fire pits and transported your supplies "so you do not have to carry them through the maze."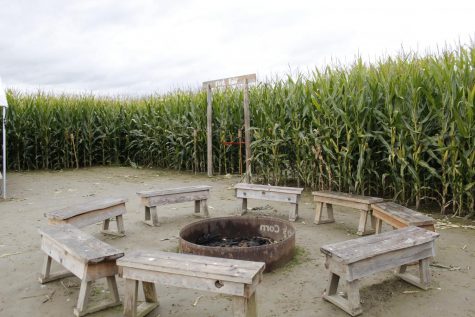 EvCC student Jade Makinson talks about her experiences at Bob's. "I've been to Bob's Corn two or three times the past few years and it's always the highlight of my Halloween season," she says. "My friends always say that Bob's has one of the best nighttime, kid-friendly corn mazes they have been to and I would have to agree. I recommend it to any family or group of friends who want a good walk around. The corn maze and their warm cider are definitely my favorite parts. Solving the corn maze at night can get a little chilly, especially if it's raining, but solving it while in the rain, or splashing in the puddles of previous rain, is what makes it fun! I love getting a cup of warm cider at their stand afterward to help fight off the chill of the night. My group has never been big enough to want to rent a private fire pit, but I have always wanted to!"
When asked what makes his pumpkin farm and corn maze distinct from others in the area, Ricci responded: "Oh, that's easy. The people." He went on, "We have the most incredible staff, simply because- the people that work here- it's not just a job. It's not about the money. It's about being a part of something bigger. It's about being on a team. We all work together, everybody is happy, everybody wants to be here. It's not like, 'Oh, I got to go to work.' It's like, 'Woohoo, going to the farm!' You know, it's a very happy place."
Bob's is located at 10917 Elliott Road, Snohomish Washington. Directions and additional information can be found on their website, bobscorn.com.